Rihanna's Surprising Interview: My Beating Shouldn't Impact Chris Brown's Career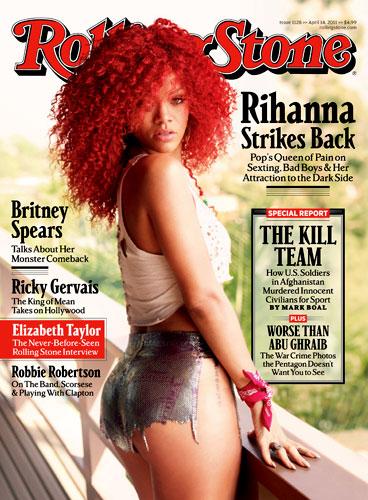 Rihanna opens up in the new issue of Rolling Stone about her recent decision to relax the restraining order she holds against her ex Chris Brown, and RadarOnline.com has all the details for you.
"That's my decision," the beautiful Barbados-born singer told the magazine. "It doesn't mean we're gonna make up, or even talk again. It just means I didn't want to object to the judge."
The original restraining order commanded Brown to keep his distance from the Umbrella singer for five years, as a partial punishment for his assault conviction after he beat her in February 2009. The relaxed restraining order prohibits him from annoying or harassing the Only Girl singer for the next three years; he is allowed to talk to her under the new rules.
Article continues below advertisement
Still, don't expect to see the two out together anytime soon.
"We don't have to talk ever again in my life," said the 23-year-old Please Don't Stop The Music singer. "I just didn't want to make it more difficult for him professionally.
"What he did was a personal thing -- it had nothing to do with his career. Saying he has to be a hundred feet away from me, he can't perform at awards shows -- that definitely made it difficult for him."
The Rude Boy singer said after the Brown incident in 2009, "I put my guard up so hard... I didn't want people to see me cry. I didn't want people to feel bad for me. It was a very vulnerable time in my life, and I refused to let that be the image.
"I wanted them to see me as, 'I'm fine, I'm tough.' I put that up until it felt real."
The interview isn't all heavy however: the sexy hitmaker talks about the inspiration behind her latest pop hit, S&M.
Article continues below advertisement
"Being submissive in the bedroom is really fun," said the gorgeous singer, who's been romantically linked to Brown, L.A. Dodger Matt Kemp and R&B breakout Drake. "You get to be a little lady, to have somebody be macho and in charge of your s---. That's fun to me: I like to be spanked."
She also shares her views why she's occasionally "sexting" explaining, "When you're not with the person you want to be intimate with, a picture is the next best thing. Well, Skype is safer. But a picture lasts a long time.