THE WEEK IN PHOTOS: Reese Gets Ready, Chris Gets Crazy & Hollywood Says Goodbye To A Legend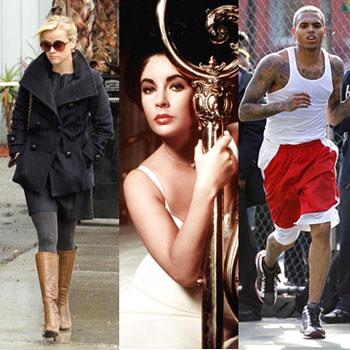 The 22nd Annual GLAAD Media Awards were presented by ROKK Vodka at Marriott Marquis Times Square Saturday in New York City, with Ricky Martin being honored.
Separated Scream 4 stars Courteney Cox and David Arquette were spotted together in Malibu Saturday at a popular flower mart. The film hits theaters next month.
Love was in the air Saturday for Ellen DeGeneres and her wife Portia de Rossi, as the twosome was spotted taking a romantic stroll through L.A.'s Venice Beach district, then did some shopping in the neighborhood's design stores and art galleries.
Article continues below advertisement
Yes, there's more than one gala wedding coming up: bride-to-be Reese Witherspoon was snapped doing pre-wedding chores in Los Angeles Monday. The Election star, wearing all dark clothes on the rainy Southern California day, had her hair done at Santa Monica's Prive salon. The arrangements were in preparation for her Saturday wedding to CAA talent agent Jim Toth at her Ojai, California home.
Super dad Brad Pitt demonstrated how to juggle a jam-packed movie career and a very busy family life. The Ocean's 11 star and wife Angelina Jolie had all six of their kids out shopping together in New Orleans during a day off from shooting his latest movie, Cogan's Trade.
The Karate Kid star Ralph Macchio and Look Who's Talking star Kirstie Alley got off to strong starts, finishing first and second respectively on Monday, the night the twelfth season of Dancing With The Stars kicked off in Hollywood.
Article continues below advertisement
Chris Brown was fired up after a Good Morning America interview Tuesday morning with Robyn Roberts, after she pressed him about his 2009 assault on Rihanna. The 21-year-old stormed out of the studio and the window in his dressing room was later discovered smashed. Still, Brown was all smiles at the Opera Gallery in New York City in these photos taken just hours after the incident.
Brown also let off steam just a few hours after Good Morning America meltdown with a game of basketball in New York City on Tuesday.
Real Housewives of Miami star Adriana de Moura took to the sand and water of South Beach, Florida in her pink bikini on Tuesday. The Brazilian bombshell and full-time mother of one debuted as a cast member during season one of Bravo's hit Miami show.
Article continues below advertisement
Liz Taylor's funeral took place Thursday, and about 48 of the her family members were in attendance for the hour-long service, which was officiated by Rabbi Jerry Cutler. Colin Farrell, a friend of Taylor's, read the poem The Leaden Echo and the Golden Echo near her casket, which was flanked by beautiful gardenias, violets, and lilies.
The "Pregnant Man" Thomas Beatie and his wife, Nancy, have plans to welcome another addition to their family, but in what should be a happy time filled with bouncing baby joy, the couple has been forced to file for bankruptcy and live on food stamps.