Exclusive
Chris Brown Planning 'Over The Top' Grammy Awards Performance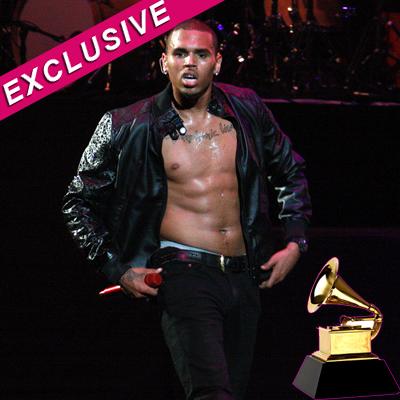 By Jen Heger - Radar Legal Editor
Chris Brown is planning an over the top performance at the Grammy Awards on Sunday night, RadarOnline.com is exclusively reporting.
As previously reported, Brown is nominated for three Grammys -- Best R & B Album, Best Rap Performance and Best Rap Song -- and RadarOnline.com was first to report last year that he planned on performing at this year's awards show.
"Chris has been rehearsing non-stop for the performance," a source close to the singer tells RadarOnline.com. "He wants to give the audience and his fans an over top the performance. Chris has put a lot of pressure on himself to deliver a memorable performance, and he will deliver, he always does."
Article continues below advertisement
It was only three years ago that Brown was arrested and charged with felony battery on his then girlfriend, Rihanna, on the night before the 2009 Grammy Awards -- an incident the singer is keen to move on from.
"Chris is hopeful that his performance will close that chapter on his life. He will be bringing his mom to the awards ceremony, she is his biggest fan, and he has told her he is dedicating his performance to her," the insider tells RadarOnline.com.
"Chris has grown tremendously as a person, and an artist from that time in his life. Chris has complied with all terms of his probation and has completed most of his court ordered community service.
"He has been a model probationer, but more importantly, Chris accepted responsibility for what he did. Chris took that experience and vowed to learn from it and become a better person, and he was thrilled and truly humbled that he was nominated for three Grammys."
Article continues below advertisement
Rihanna is also nominated for several Grammys and will be performing with Coldplay, but don't expect the former couple to cross paths during the awards ceremony.
"Rihanna and Chris' handlers will keep them apart during the ceremony, they just don't want to detract from the awards. Chris and Rihanna have absolutely been spending time together, but they keep it far from prying eyes," the insider states.