When Dirty Laundry Gets Aired! Reality TV's 15 Biggest Train Wrecks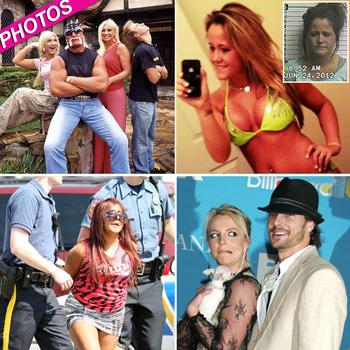 Things get really messy on reality television, as learned the hard way by several Hollywood stars!
From very public mental breakdowns and drug and alcohol issues to domestic violence disputes, celebrity's lives have fallen apart before the eyes of the public on reality shows. RadarOnline.com has photos and details about the 15 biggest train wrecks of reality television.
The Real hot mess Housewives of Beverly Hills! Within two seasons of the hit show focusing on the ladies of the 90210 zipcode, both Taylor Armstrong and Kim Richards' lives have unraveled on television – and it has been far from pretty!
Article continues below advertisement
The drama doesn't stop with the most famous young moms on television! MTV's 16 & Pregnant and Teen Mom stars Amber Portwood and Jenelle Evans have both suffered incredibly public blows when it comes to their personal lives. Aside from their relationship dramas, both the mothers have landed themselves in jail (Portwood in prison) for everything from domestic disputes to drug related charges.
David Hasselhoff, Tom Sizemore and Danny Bonaduce have all attempted to resurrect their careers and early fame on reality television shows, but their ill-fated series' have done more harm to their reputations than good for their employment records.