Horrifying Photos Emerge Of Adrienne Maloof 'Punched And Beaten'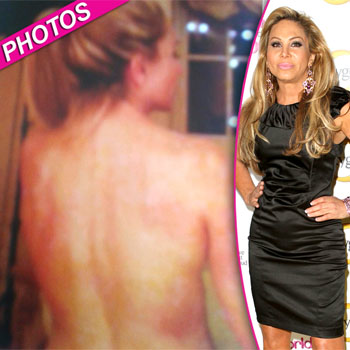 By Alexis Tereszcuk - Radar Entertainment Editor
Shocking photos of Adrienne Maloof with multiple bruises on her back have surfaced and RadarOnline.com has the shots that show the dark marks on the Real Housewives of Beverly Hills star.
The photos of Adrienne are taken from behind and show her nude from the waist up with red welts on her arms and across her back.
She is wearing her hair in a pony tail and the large marks are visible in several places on her back.
Article continues below advertisement
The photos were posted on Adrienne's personal chef Bernie Guzman's Facebook page and he wrote "Now you know….Everyone else needs to know. It's a secret I have kept….he must be stopped.
"Adrienne did not put me up to this…..I feel everyone needs to know. I'm sure she will be relieved everyone knows."
Adrienne and her estrange husband, Dr. Paul Nassif, have been locked in a nasty divorce battle and Guzman claims that the pictures were part of the court documents submitted two weeks ago.
"Now you know who and what he really is," Guzman wrote and said "Adrienne Maloof was pushed to the ground. Punched and beaten. He is a beast."
As RadarOnline.com previously reported, Adrienne claimed in her court documents that she was a victim of domestic violence at the hands of her husband.
Maloof said in her sworn declaration: "Paul Nassif has often shoved me to the ground, pulled my hair and yelled at me. Most recently, in July 2012, he shoved me to the ground with enough force that I hit my head on the floor when I fell. I immediately jumped up because I knew that if I stayed down I could be kicked. He grabbed my hair and pulled. I grabbed his hair, trying to get him off of me."
Article continues below advertisement
In the documents Guzman also alleged that he observed "Paul drinking large amounts of alcohol and in particular, scotch on a daily basis. While at the residence Paul had a nightly habit of drinking one-and-a-half highball glasses full of scotch without ice or water.....When Paul drinks, Paul tends to fight with Adrienne. I have overheard many arguments between Adrienne and Paul and during some arguments I have heard Adrienne say, 'Get off me. Get away from me.'"