Exclusive
Secret Behind Paul Nassif Agreeing To Custody Agreement With Adrienne Maloof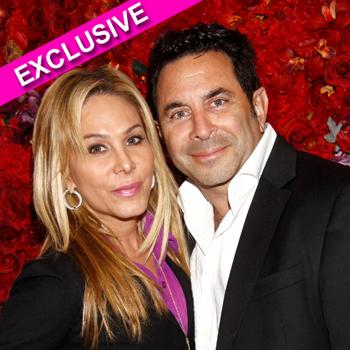 By Jen Heger - RadarOnline.com Assistant Managing Editor
Adrienne Maloof's estranged husband, Dr. Paul Nassif, agreed to a custody agreement of their three sons because he was concerned that negative information about the way he parented was going to be made public during a court hearing this week, RadarOnline.com is exclusively reporting.
"There were a lot of depositions that took place in the past two weeks in connection with Adrienne and Paul's custody fight over their three sons. It became clear to Paul that if this information were to be made public during a restraining order hearing this week it would be very, very bad for his image. The damaging info included Paul's parenting skills and his temper," a source close to the situation tells RadarOnline.com.
Article continues below advertisement
"Paul does have anger management issues, and has been advised to work with a mental health professional to deal with it. The child custody evaluation also concluded that Adrienne was just a better parent, and was more involved in the boys lives. Adrienne is their mother, and will do whatever it takes to protect the boys," the insider adds.
As RadarOnline.com was the first to report, Maloof and Nassif reached an out of court custody agreement of their three sons on Friday.
"Adrienne and Paul and their respective lawyers met all day on Friday with a mediator and they were able to come to a custody agreement of their three sons," an insider previously told RadarOnline.com. "Paul had been requesting 50/50 custody, but he didn't get those terms. The boys will be with Adrienne a majority of the time, with Paul being granted visitation. There are layers of protection in the agreement to ensure the boys are in a safe environment."
Article continues below advertisement
Maloof was granted a temporary restraining order over allegations of emotional and physical abuse that Paul allegedly inflicted on his family. Child protective services conducted an investigation into the allegations and determined that Nassif didn't physically or verbally abuse the children.
"The restraining order hearing is still on the docket for October 9 and will likely proceed with Adrienne only seeking for it to be only for her and won't include the boys as it initially had," the source says.