Adrienne Maloof's Husband Paul Nassif Ordered To Turn In His Gun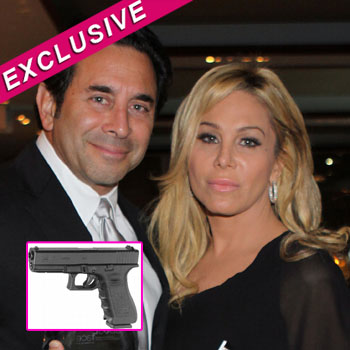 By Jen Heger - RadarOnline.com Assistant Managing Editor
The Real Housewives of Beverly Hills star, Adrienne Maloof's estranged husband, Dr. Paul Nassif, has been ordered by a judge to turn in his gun to a police department or sell it to a licensed dealer, RadarOnline.com is exclusively reporting.
Maloof obtained a temporary restraining order against her plastic surgeon hubby over accusations that he physically assaulted her and their three children. The temporary restraining order says: "You cannot own, have, possess, buy or try to buy, receive or try to receive, or otherwise get guns, other firearms, or ammunition while this order is in effect. If you do, you can go to jail and pay a $1,000 fine. You must sell to a licensed gun dealer or turn into a law enforcement agency any guns or other firearms that you have control of as stated in item 9 above. The court will require you to do so."
Article continues below advertisement
As previously reported, Maloof has been very concerned about Paul's decision to carry a gun in his briefcase and particularly worried that the couple's young children could get their hands on the firearm.
It was revealed in court that Maloof recently took a photo of the handgun, something that Nassif took great offense to, and tried to imply he had a sinister motive.
"Adrienne was very, very concerned about Paul having a handgun in his possession while being around the children," a source close to the situation previously told RadarOnline.com. "Paul keeps the handgun unloaded in his briefcase with the ammunition in another bag, but Adrienne is still worried about it. During Paul's visit with the children last week, which takes place at Adrienne's mansion, she took a picture of the gun because she is VERY concerned about the safety of their three children and wanted photographic evidence of it. Yes, Paul does keep the ammunition in another bag, but it's still extremely dangerous to have that around children, especially boys."
Nassif maintains that he carried the gun as protection and that it was never a danger to the kids because it wasn't kept loaded around the boys.
Under the law, Nassif was required to get rid of the gun 24 hours from the time that the temporary restraining order was issued, and was given 48 hours to provide proof to the Court that he had done so.
As part of the temporary restraining order, Maloof has sole custody of their three sons and a hearing has been set for October 9 to determine if the restraining order will be made permanent.