Exclusive
Dr. Paul Nassif Taking Adrienne Maloof Back To Court Because 'He Wants To Reneg On Temporary Custody Agreement'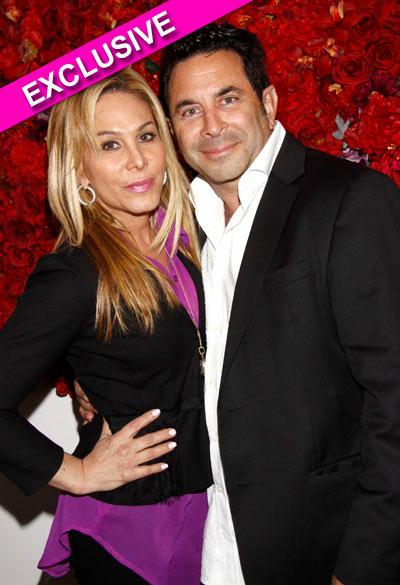 By Jen Heger - RadarOnline.com Assistant Managing Editor
UPDATE: Dr. Paul Nassif and his attorney, Lisa Helfend Meyers, are in the courtroom. Adrienne Maloof is at the courthouse but isn't in the courtroom yet. Their matter is expected to be heard before 11:30 am PST.
Oh, it's getting nasty!
Adrienne Maloof's estranged husband, Dr. Paul Nassif, is unhappy with a temporary custody agreement the former couple had reached concerning their three sons and plans on taking his grievances to a family court judge in Los Angeles on Friday, RadarOnline.com is exclusively reporting.
Article continues below advertisement
"Paul and Adrienne had reached an out of court temporary custody agreement of their three sons," a source close to the former couple tells RadarOnline.com.
"It was fair and amicable, but for some unexplained reason, Paul is now backtracking on the deal. It just doesn't make any sense why Paul would agree to the custody deal and now have a ton of issues and problems with it. Paul and Adrienne's lawyers have been trying to reach middle ground this week, to no avail. So, Paul and his lawyer plan on going before the judge Friday morning and Adrienne and her attorney will be in court also. Paul will be filing the documents in the matter, which will be sealed."
As we previously reported, The Real Housewife of Beverly Hills star, looking stunning in a black dress, sans wedding ring, celebrated her birthday Wednesday night with a group of friends at a swanky L.A. hotspot. Adrienne and her pals dined at the Sunset Strip restaurant Katana where the Real Housewife showed off her toned and tanned figure in a black and gold dress but kept her left hand bare of any jewelry.
MORE ON:
Celebrity Justice
Article continues below advertisement
Nassif filed for divorce from Adrienne last Monday, August 27, citing "irreconcilable differences."
Last friday the plastic surgeon hauled Maloof to court in an attempt to have the judge formally hear the matter, but he was unable to because of a trial that was taking place.
"This is turning out to be a very, very nasty divorce proceedings and the fact that Paul and Adrienne had to go to court on an emergency basis this early in the proceedings isn't a good sign," the insider previously told RadarOnline.com.