Adrienne Maloof Takes Out Restraining Order Against Paul Nassif, Claims He Choked Their Son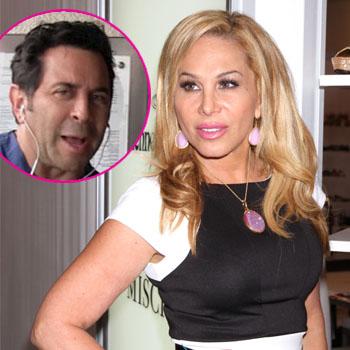 By Debbie Emery - Radar Reporter
Adrienne Maloof's bitter divorce took an even nastier turn on Wednesday when The Real Housewives of Beverly Hills star took a temporary restraining order out against her estranged husband, Dr. Paul Nassif, claiming he choked one of their sons last week.
The 51-year-old reality star alleges that Nassif, 50, throttled one of their three children after he was being rowdy during a drive, then later that same day he took another of the boys and "threw him in the corner" for misbehaving during bath-time.
Article continues below advertisement
DOCUMENTS: Adrienne Maloof Files Temporary Restraining Order Against Her Estranged Husband
The TRO states that the esteemed plastic surgeon must stay at least 100 yards from both Adrienne's home and the kids' schools, and was made by the same judge who granted Maloof temporary custody.
As RadarOnline.com previously reported, Adrienne recently voiced her concern over Paul's decision to carry a gun in his briefcase because of her fear that the boys could get their hands on it. "Paul keeps the handgun unloaded in his briefcase with the ammunition in another bag, but Adrienne is still worried about it," a source told Radar.