From Hot Mess To Model Citizen! 10 Stars Who Turned Their Lives Around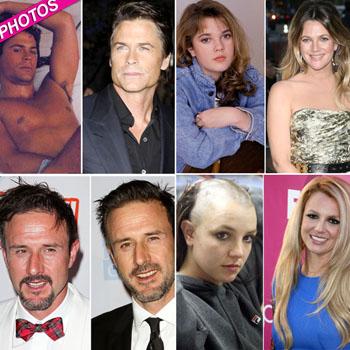 Once a hot mess, not always a hot mess!
Amanda Bynes is the latest star to spawn concern for her very public breakdown, but she isn't the only celebrity in Hollywood history to gain "hot mess" status – and there is hope! RadarOnline.com has photos of 10 stars who dramatically turned their lives around, going from hot mess to model citizen.
Angelina Jolie is a wild child turned world humanitarian! The Academy Award winning actress spent her teens and early twenties engaging in reckless behavior, before finally opening up her eyes and deciding to change. The devoted mom and United Nations High Commissioner for Refugees Special Envoy is now one of the biggest role models in Tinseltown.
Article continues below advertisement
Robert Downey Jr. and Rob Lowe were part of Hollywood's infamous Brat Pack, wreaking havoc all over Hollywood. While RDJ battled a very public drug addiction and alcoholism problem, which almost destroyed his career, Lowe was at the center of scandal when a sex tape surfaced of him engaging in lewd sex acts with a 16-year-old. Both the actors eventually got their careers back on track, and are on top of their game once again.
Rock royalty Nicole Richie and Jack Osbourne both spent several years partying all over Hollywood, but eventually their substance abuse issues caught up to them. While Nicole got busted with heroin and then driving the wrong way down the freeway and Osbourne checked into rehab to deal with his drug issues, both the reality stars rehabbed their images and are now devoted parents and role models.
Which other stars have gone from hot mess to model citizen? Find out by clicking here.