Mick Jagger's Obsession With Angelina Jolie Revealed In New Book, She Left Him 'Sobbing'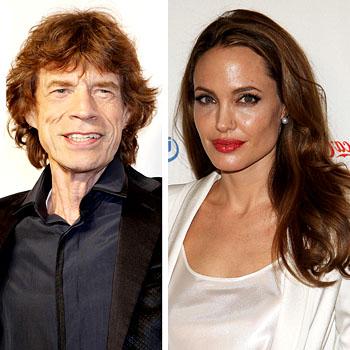 The hypnotic effect Angelina Jolie has on men is well documented but the fact that she drove one of rock's most notorious lady killers, Mick Jagger, to obsession and had him "virtually sobbing" over her is now being exposed in a new book.
Christopher Andersen reveals that the Rolling Stones frontman would constantly bombard Jolie with calls begging to see her and it was all encouraged by her mother Marcheline Bertrand.
Article continues below advertisement
Jagger fell for Jolie when she played a stripper in one of the band's music videos in 1997 and despite being married at the time to Jonny Lee Miller and having an affair with her Playing God co-star Timothy Hutton, Bertrand "loved Mick for Angie… and felt that he could teach her about fame," the late actress's friend Lauren Taines says in the book.
In excerpts of MICK: The Wild Life and Mad Genius of Jagger printed in The New York Daily News, the pouty-lipped singer went after Angelina hard and was infatuated by her wild side even admitting that, "She scares me a little. I like that."
At the time Angelina "used hard drugs, had a fondness for S&M and was a self-confessed cutter."
The tome reveals that the brunette beauty initially refused to return Mick's calls which did little to deter him and only served to make him pursue her more.
"Angelina, it's Mick. Will you please, please call me?" "Miss Jolie, why aren't you returning my calls?" "Angelina, I have got to speak to you. Call me," were some of the incredibly desperate message left.
Article continues below advertisement
The cat and mouse game continued between them for several years and Taines added that she was amazed at how Jolie was "messing with Mick's head" and he was "virtually sobbing" on the phone trying to get her to spend time with him.
Even when Mick was ending his marriage with Jerry Hall in 1999, he was still in hot pursuit of the now mother-of-six, and presented her with a $5,000 pair of earrings. The book alleges that by this stage Angelina was juggling Tim Hutton, future hubbie Billy Bob Thornton, Nicolas Cage and Russell Crowe.