Brad Pitt's Mother Opposes Gay Marriage, Obama In Letter To Missouri Paper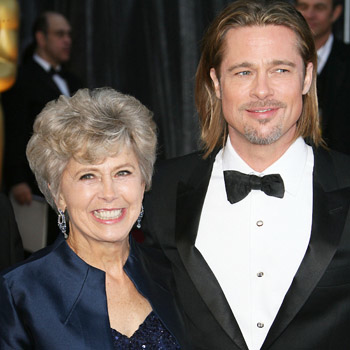 Brad Pitt's mother Jane wrote a letter to a Missouri newspaper this week condemning same-sex marriage, in backing the campaign of presumed Republican presidential candidate Mitt Romney, RadarOnline.com has learned.
The Springfield News-Leader's Tuesday edition featured a response letter from Jane Pitt in which she disagreed with a previous published letter saying Romney's Mormon beliefs should keep him from the Oval Office.
Article continues below advertisement
Jane -- calling herself "a Christian who differs with the Mormon religion" -- wrote in response, "Any Christian should spend much time in prayer before refusing to vote for a family man with high morals, business experience, who is against abortion, and shares Christian conviction concerning homosexuality just because he is a Mormon."
She went on to write that "any Christian who does not vote or writes in a name is casting a vote for Romney's opponent, Barack Hussein Obama -- a man who sat in Jeremiah Wright's church for years, did not hold a public ceremony to mark the National Day of Prayer, and is a liberal who supports the killing of unborn babies and same-sex marriage."
(The paper subsequently published an editor's note stating, "To clear up earlier confusion, the News-Leader has verified the letter writer is the mother of actor Brad Pitt and local businessman Doug Pitt.")
Jane's stance stands in stark contrast to Brad's views on the issue, as the 48-year-old A-lister has been an outspoken advocate for same-sex marriage. He donated $100,000 to an anti-Proposition 8 campaign in 2007 "because everyone has the right to live the life they so desire if it doesn't harm another and because discrimination has no place in America."
Article continues below advertisement
Four months before Brad (a stated Obama supporter) and partner Angelina Jolie became engaged, he told Ellen DeGeneres they were waiting to wed until gay people were given the same rights.
Joan Rivers Slams Angelina Jolie: She 'Looked Like A Fool' At Oscars
"I've said that we would not be getting married until everyone in this county had the right to get married," Pitt said. "We live in this great country that is about freedom. It is defined by our freedom and equality and yet we allow this discrimination to go on everyday and that's not what we're about -- that's not what makes us great.