Exclusive
Joan Rivers Slams Angelina Jolie: She 'Looked Like A Fool' At Oscars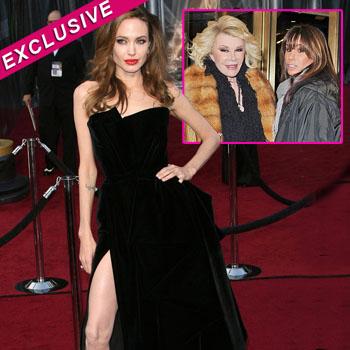 By Alexis Tereszcuk - Radar Senior Reporter
Angelina Jolie's bizarre leg thrust Sunday night at the 2012 Academy Awards almost stole the show, but it didn't earn her any friends among the sharpest tongued ladies in town.
Fashion Police star Joan Rivers had a few choice words for the Atelier Versace clad beauty.
"Angelina Jolie looked like a fool the way she posed," Rivers exclusively told RadarOnline.com. "She took herself right out of that super star category because you now realize she stands in front of a mirror to figure out what she looks like."
Article continues below advertisement
Her daughter Melissa Rivers agreed: "She was demystified! She demystified herself and it's unfortunate because it always looks so effortless, and you think how can one person be so glamorous? It's because she practices!"
Meanwhile, some critics are saying that Angelina's fashion choice ripped off Jennifer Aniston's 2010 Golden Globes dress, but the Rivers ladies disagree.
"She isn't even aware of Jennifer Aniston having a slit," Joan said, and Melissa agreed. "What Jen Aniston wears is so not on her radar until we put it there for her."
Joan continued her rant though against Angelina and her leg.
"Have you ever seen anybody stand with their hand on a hip with a leg thrown out to open an envelope? No. and you want to say, you idiot! You brought us back to the fact and we've all forgotten that you used to wear blood around your neck and French kiss your brother!"
When asked about Angelina's ever increasingly small frame and super skinny arms, Joan made a remark that many are likely to find offensive.
Article continues below advertisement
"That looks like Auschwitz adjacent."
She mused that the curtain has been pulled back on the façade Angelina Jolie has created.
"This is the first stupid move she's made. She handles her own pr, career and it's all been very thought out. She turned around from kissing her brother on the carpet to being a representative of the United Nations and she's done it all. She turned herself around to be a super star and you go whoops! Maybe she had a drink?"