Exclusive
Stick-Thin Angelina Jolie's Oscar Leg Flash 'Shows A Deep Desire For Attention,' Says Expert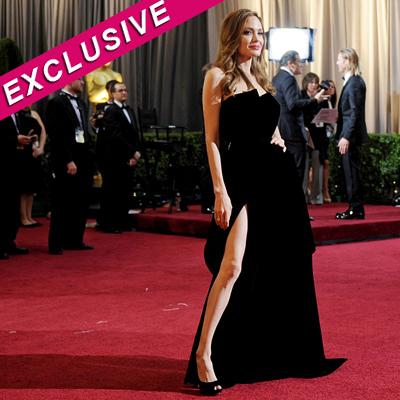 Article continues below advertisement
If the The Tourist star, 36, was trying to say, "Look at me!" with her leg constantly flashing out of her Atelier Versace gown, then she certainly got her wish, but probably not with the reaction she was looking for.
"Angelina Jolie looked like a fool the way she posed," Fashion Police host Joan Rivers exclusively told RadarOnline.com.
"She took herself right out of that super star category because you now realize she stands in front of a mirror to figure out what she looks like."
Aronson went on to explain why Jolie may feel over-shadowed. "I imagine with all her children, career and volunteer work she may be falling last on her list of priorities which often results in weight loss and body changes," she told RadarOnline.com.
"In addition, I wonder if she feels she has to keep up with Brad Pitt, who was up for an Oscar. There might be a level of competition which can often fuel changes in one's body as a way to deal with unresolved feelings."
Article continues below advertisement
Jolie's uncomfortable pose accentuated her shocking weight loss as her twig-like limbs were on full display for all to see, and nutritional expert Majid Ali (who has not treated the star) estimates the former 5'8" Oscar winner's weight to be as low as 100 pounds.
If she wants to expand her family of six with a third pregnancy, Angie will have to gain at least 30 pounds to reach a healthy weight. "Being so skinny could result in no period and no period certainly would result in no pregnancy," said Ali, who thinks her blatant flaunting of her thin figure could be "defiance or body dysmorphia," he told RadarOnline.com.