Exclusive
Angelina Jolie's Magic Leg Pose At Oscars 'Totally Unplanned'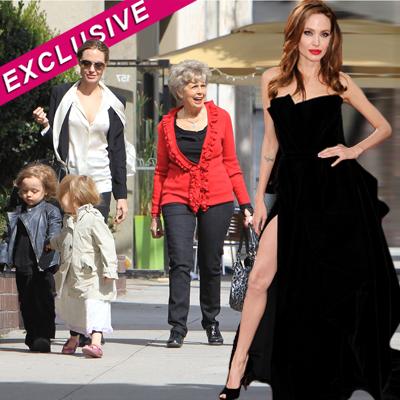 By Jen Heger - RadarOnline.com Legal Editor
Just a day after stealing the Oscars with a sexy pose showing off her right leg, A-lister Angelina Jolie was shopping in Beverly Hills with her twins Vivienne and Knox, and RadarOnline.com has learned the impromptu leg show was completely unplanned!
As we previously reported, Jolie made international headlines at Sunday's Oscars, when she struck the now-famous pose while presenting an Academy Award, and an insider tells RadarOnline.com exclusively Jolie was simply vamping it up for the audience -- and oblivious to the controversy.
Article continues below advertisement
"Angie was vamping it up, no more, nothing less," the source said. "There was no hidden meaning in what she was doing. The photographers went crazy for her on the red carpet and were screaming for her to 'Show some leg,' and so she did.
"It was totally unplanned for Angie to do it again when she was presenting, she was having fun, living in the moment, like she always does. She is absolutely oblivious to the controversy and attention the sexy pose has created."
As we previously reported, the Internet has been abuzz following Angelina's onstage Oscars appearance, as she made sure everyone could see when she flashed her gorgeous leg -- including her partner Brad Pitt, who was sitting in the front row.
The striking provocative pose wasn't the only reason why Jolie was making news, as Angelina's pin thin arms also made headlines.
"Yes, Angie is thin. She has a lot going on with the kids, Brad, and work. Angie understands that going to award shows is part of the business, but it's not at the top of her list of favorite things to do. She is relieved that it's now over," the insider said.
Article continues below advertisement
In Beverly Hills Monday, little Knox was dressed in a black motorcycle jacket and sweatpants while Vivienne rocked a beige trench coat, white dress and cute pink shoes.
Not to be outdone, mama Angelina looked super-stylish in a black pant suit and white shirt, with her hair pulled back in a knot and large sunglasses firmly in place. (This time, however, Angelina's arms and legs were covered.)
Also along for the trip was Brad's mom, Jane.