Angelina Jolie Takes The Twins Shopping With Grandma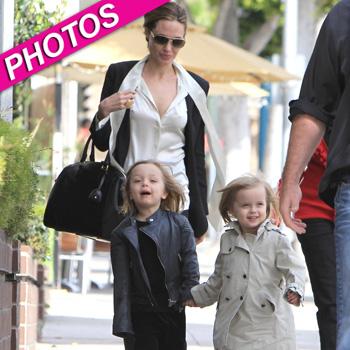 Hot off her bizarre Oscars appearance Sunday night, Angelina Jolie took some time off from flashing her shapely legs to take her two adorable twins on a shopping trip, and RadarOnline.com has the photos of their fun day out.
The mother-of-six, joined by Brad Pitt's mom, Jane, hit up the swanky stores in Beverly Hills on Monday, and her two youngest kids couldn't have looked any cuter.
At first glance it was hard to tell Knox and Vivienne apart with their matching long blonde locks, but the little boy was dressed in a black motorcycle jacket and sweatpants while Vivienne rocked a beige trench coat, white dress and cute pink shoes.
Article continues below advertisement
Not to be outdone, Angelina looked super stylish in a black pants suit and white shirt, with her hair pulled back in a knot and large sunglasses firmly in place.
As RadarOnline.com previously reported, the internet has been abuzz following Angelina's onstage Oscars appearance.
The actress, who was presenting the award for Best Adapted Screenplay, looked startling thin and gaunt, and struck a strange pose with her leg stuck out of her dress at an awkward angle.
"Angelina Jolie looked like a fool the way she posed," Joan Rivers exclusively told RadarOnline.com. "She took herself right out of that super star category because you now realize she stands in front of a mirror to figure out what she looks like."
The comedienne's daughter, Melissa Rivers agreed: "She was demystified! She demystified herself and it's unfortunate because it always looks so effortless, and you think how can one person be so glamorous? It's because she practices!"