Exclusive
That's Just Crazy! Angelina Jolie's 'Cousin' Seeks TRO Against Brad Pitt & John Travolta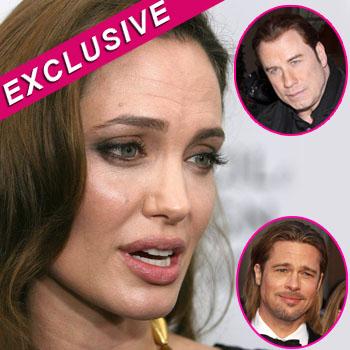 Article continues below advertisement
The federal court docs state: "Jonathan Jolie was at the Church of Scientology in Clearwater, Florida on 6/1/12 and was physically assaulted by Brad Pitt & John Travolta...I live in the Vatican City and was sent directly from Pope Benedict to spy and stop Brad Pitt from joining the Scientologists in Clearwater headed by John Travolta, and I take it personal because if Brad Pitt becomes a Scientologist, he will brainwash his Scientology beliefs on my cousin Angelina Jolie which means the Jolie seeds will be infected and our bloodline ruined as I am also albino by birth and marksman at night and Pope Benedict called me into his secret chamber and told me Brad Pitt must be stopped immediately."
Jonathan contends that Travolta and Pitt "were holding hands and in disguise as the 80's sitcom Perfect Strangers were...and I shouted out 'halt…. you do not disobey Lord Pope Benedict' and Brad begged me not to tell Angelina because this conversion she did not know, it was to be kept a hidden secret, and Angelina Jolie also was not aware of Brad Pitt and John Travolta's affair with each other and I had a sword in my car, and body armour and put it on, and I told Brad Pitt I will fight to the death and you will not enter the Scientology building."
MORE ON:
Celebrity Justice
Article continues below advertisement
According to the documents, Jonathan claims Travolta and Pitt then hog tied him and dumped him in the Gulf of Mexico and he got bitten by a fish.
Jonathan says he fears for his safety and is currently hiding out at the Italian Embassy in New York City.
Shockingly, the restraining order wasn't granted, and the case was officially closed on June 19, 2012.
RELATED STORIES:
Scientology Investigated South Park Creators Trey Parker And Matt Stone