Scientology Investigated South Park Creators Trey Parker And Matt Stone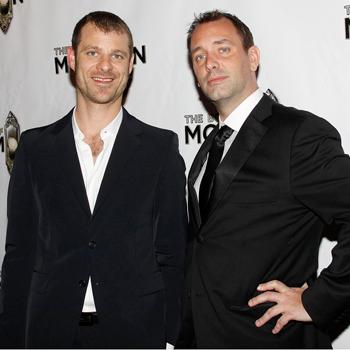 Scientology launched an intense investigation into the lives of South Park creators Trey Parker and Matt Stone, The Village Voice is reporting.
According to Marty Rathbun, the famous 2005 South Park episode called Out of the Closet which spoofed Scientology, so enraged the hierarchy, a witch hunt was ordered.
Rathbun was himself once a high ranking Scientology official. He defected from the organization and in 2009 began blogging about Scientology secrets.
Article continues below advertisement
Even friends of Parker and Stone, including the formerly married John Stamos and Rebecca Romijn, were targeted, Rathbun told The Voice.
"These connections are being PRC'd," reads a document Rathbun made public on Sunday, explaining that PRC stands for "public records check."
In other words, a private eye was ordered to conduct a complete check of these people and their property through public records. If they owed taxes, or had been in messy divorces, or had been arrested, Scientology wanted to know about it, Rathbun said.
"There are some strings that will be pulled on the PRC on Stone," the document reads, without further explanation.
"Otherwise the special collections will be debugged in order to get some viable strings that can be pulled," the document then says "Special collections," Rathbun explains, is Scientology code for "trash digging."
What exactly were they looking for, The Voice asked Rathbun?
"Phone records. Bank records. Personal letters that expose some kind of vulnerability. They'll read stuff into the kind of alcohol you're drinking and how much. Prescriptions. They'll figure out your diet. They can find out a lot about you through your trash," said Rathbun.
Article continues below advertisement