Exclusive
Officials Clamp Down On 'Squirrel Busters' Accused Of Harassing Ex-Scientologist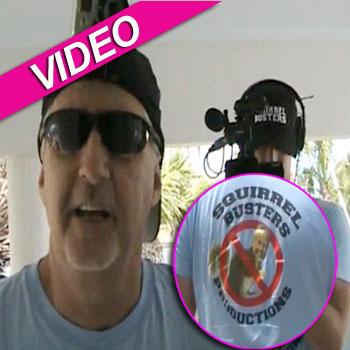 A bizarrely named film crew has been accused of harassing and stalking a former Church of Scientology member who dared to lift the lid on the controversial religion.
Marty Rathbun defected from the Church seven years ago amid a myriad of claims of mental and physical abuse and is now fighting to stop a group called Squirrel Busters from filming his every move.
The 54-year-old - who was with the organisation for 27-years - claims the camera crew are targeting him at home, restaurants and airports and have even rented a house just a few blocks away from him.
Article continues below advertisement
And while Squirrel Busters claim their extreme measures are all in the name of documentary making local officials in the small Texan town of Ingleside On The Bay, are now trying to force them to apply for a film permit, to restrict their filming activities.
EXCLUSIVE PHOTOS: Travolta's Local Scientology Center Vandalized
They are refusing to halt their production however, insisting it violates their right to freedom of speech.
Despite Rathbun's claims to the contrary, the Church of Scientology insist that they have nothing to do with the group but 'Squirrel' is a well known term used to describe members who have defected from the organization but continue to practice independently.
EXCLUSIVE PHOTOS: Tom Cruise's Tricked Out SUV Made By Scientology Church Members
Rathbun was once one of the organization's most trusted members and purportedly audited high profile Scientologists such as Tom Cruise.
Article continues below advertisement
In April 2011 bizarre footage emerged of the Squirrel Busters turning up on Rathbun's doorstep with cameras attached to their head. The four men - who were wearing T-shirts with a photo of Rathbun's head superimposed on a squirrel - told him they needed to check his PC meters, a piece of Scientology equipment.
During the standoff Rathbun asks the film crew if they are are going to stick around at his house to which one man warns: "Yeah Marty, we are here for weeks. Weeks and weeks."