Jett Travolta Foundation Donates Thousands To Scientology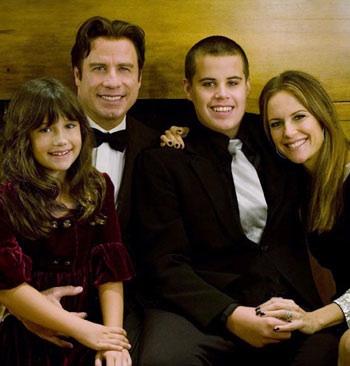 The foundation set up to honor John Travolta's late son donated 10 percent of its funds to Scientology last year, RadarOnline.com can report.
The 16-year-old died after hitting his head during a seizure in the Bahamas in 2009. His parents John Travolta and Kelly Preston set up a foundation in his name -- the Jett Travolta Foundation - and has been donating to worthy causes ever since.
Article continues below advertisement
The non-profit has given away approximately $56,000 since it was set up, Showbiz411 reports.
Tax filings for 2010 reveal the breakdown of the charity's donations.
There were 14 donations totaling $27,850. Included were: $2,500 to a Scientology detox charity in Ocala, Florida, $5,000 to both the Starlight Children's Foundation and No Limits Limbs Loss Foundation and $2,500 to the Marion County (Fla.) Sheriff.
For years Travolta and Preston denied their son was autistic - a disease which is not recognized by Scientology - and said he was a victim of Kawasaki disease.
But shortly after his death, as RadarOnline.com reported, John testified in a Bahamian courtroom that his son had suffered from autism.
No donations have been made to charities combating either of those diseases.
RELATED STORIES: