Placido Domingo Jr: 'I'm Being Attacked By Scientology'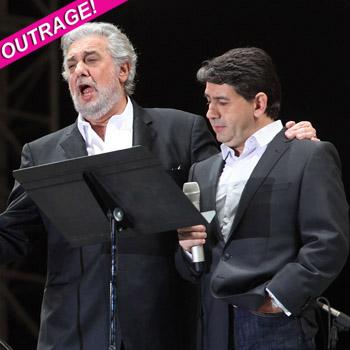 "Imagine if they did that to Tom Cruise or John Travolta?" That's Placido Domingo Jr.'s reaction to the "attacks" he says he's under after leaving Scientology.
The composer son of famed tenor Placido Domingo calls Scientology "scary and pathetic" in the ways it has been treating him since his decision to leave the controversial religion.
It began, Domingo told Village Voice when he was ordered to "disconnect" from his ex-wife Samantha and only communicate with their three daughters via an attorney.
Article continues below advertisement
Placido and Samantha met through Scientology in 1994. They later divorced but remained on excellent terms as they raised their three girls. Samantha left Scientology last year, and that's when officials of the organization ordered Placido to have no contact with her.
He refused to "disconnect" from his family, and instead followed Samantha out the Scientology door.
Domingo says first a Facebook post went up telling other Scientologists to "unfriend" him. More than 120 did.
Then a blog was published with extensive personal information about him, details about his life Domingo said he'd revealed during Scientology "auditing" sessions, including that he'd been unfaithful to his wife.
"It's an outrage," Domingo said of the privacy intrusion. "Imagine if they did that to Tom Cruise or John Travolta. My God!
"The information about adultery. That was only mentioned in session."
Article continues below advertisement
Samantha Domingo also spoke to the Voice, confirming what her ex-husband has been going through. Samantha has become a supporter of former Scientology officer Marty Rathbun.
As RadarOnline.com recently reported, a bizarre group of church members who call themselves Squirrel Busters has been harassing Rathbun at his Texas home.
Anderson Cooper Takes On Scientology
"They have people by the balls," Placido Domingo Jr. said of the Scientology hierarchy, adding that he hopes he can help others from falling "into this trap."