PHOTOS: Tom Cruise, Katie & Sleepy Suri Take New York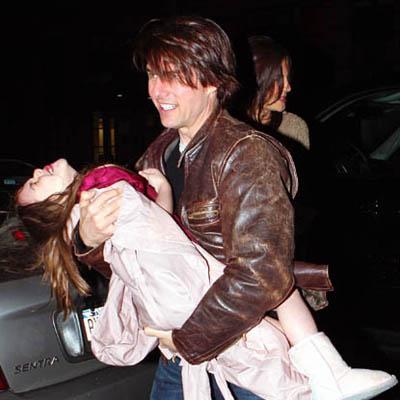 Next stop -- sleepytown!
Little Suri Cruise looked like she was already counting sheep, as doting dad Tom carried her out of an Italian restaurant in New York City Tuesday night, and RadarOnline.com has the latest pics of the superstar family.
The Cruise clan dined at Il Cantinori restaurant after Tom and Katie saw the smash Broadway musical American Idiot.
Earlier in the evening, Katie taped a spot on Late Show with David Letterman, where Dave was celebrating his 64th birthday.
Article continues below advertisement
Katie gave the 'Top Ten Reasons I'm Presenting Tonight's Top Ten List."
Among Katie's "reasons:"
No. 10: "Lost a bet with Tom."
No. 7: "This and an hour of traffic school gets me out of a speeding ticket."
No. 6: "I'm here tonight anyway playing bass with the Foo Fighters."
No. 5: "I was in the neighborhood auditioning for Katie Couric's job."
Watch the video of Katie On Letterman on RadarOnline.com
Currently, Katie can be seen in the controversial mini-series The Kennedys on the Reelz Channel.