Exclusive
EXCLUSIVE INTERVIEW: The Suri Effect: Store Announces Increase In Adult Candy Sales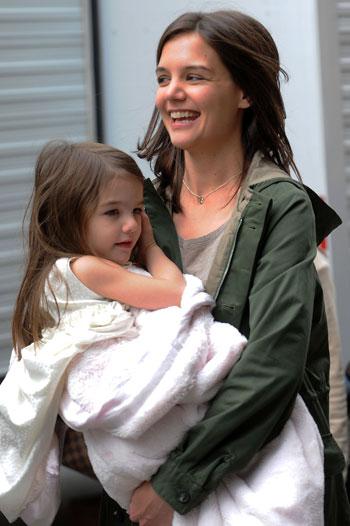 Everyone knows little Suri Cruise is a trendsetter when it comes to fashion - but.... when it comes to.....adult candy?
A spokesperson for Serendipity 3 in New York City where Suri, 4, accidentally picked out some decidedly adult-orientated candy in the shape of "man-parts", told RadarOnline.com exclusively that after the mini fashionista was snapped clutching the candy, sales have soared!
"They're selling pretty briskly given all the publicity," said spokesperson Joe Calderone. "People are more intrigued by it. It's a gag gift. We sell many other fun novelty items as well."
Article continues below advertisement
And Calderone says that there are no plans to take the popular novelty items off the shelves, despite mom Katie Holmes' horror that the gag gifts are sold there.
In an interview with Ellen DeGeneres, set to air Friday, Katie addressed the awkward moment, that was caught on camera in the gift shop of the restaurant which she and her adorable little daughter frequent often.
"It's for kids, the clientele is children," Katie explained to Ellen. "We go in and we're waiting for a table, and she grabs some gummies that are 'boy part' gummies, and I was horrified!
"P-E-N-I-S gummies, and they look like it," The Kennedys star added bashfully and at times laughing, "She was holding the box, and I was like, 'Wow, we don't need that right now,' because I thought if I said, 'Put that back,' then she's going to say, 'What is it?' and I don't really want to have that conversation!
"I thought, 'Why are they selling these here?' because this is for kids. Then it was on the cover of a magazine that I was giving her those gummies. They were taking photos of it. I was like,' Yeah...no, we put them back,'" Katie explained, waving her arms in frustration.
Article continues below advertisement
But it looks like Suri's golden touch is keeping the X-rated candy on - and flying off - the shelves.
"No," Calderone said responding to whether or not the novelty candy will be removed. "We're, of course, a family-friendly restaurant, but not a children's restaurant. We do cater to kids of all ages, 1-99. We do carry children's related gifts, necklaces and purses, and also carry adult gifts.
"Katie is a patron of ours and we love having her. And Suri is the cutest and so well behaved and she's a princess. It was an unfortunate circumstance.
"Unfortunately, being Katie Holmes she's always being followed and every move is scrutinized."
But Serendipity says that they realize these candies are not for children and that the restaurant takes that seriously.
"They're on a high shelf and never within a child's reach," Calderone told RadarOnline.com.
At this point, Katie is only expressing her shock with Ellen. She hasn't called the popular NYC eatery, but the restaurant wonders if they'll see their favorite famous patrons again.
"We're very worried she won't come back. We don't want to lose a good customer. We love and adore her. We hope she will be back.
"What happened was a little girl picked-up something she shouldn't have and when her mother realized it she quickly and politely put them back."
RELATED STORIES: