Exclusive
John Travolta's Scientology Mission Center Vandalized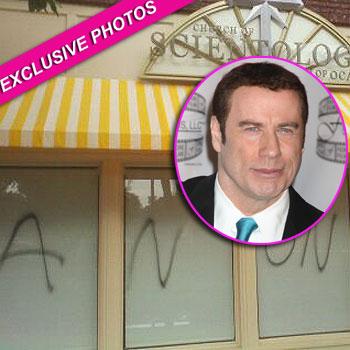 RadarOnline.com Staff Reporter
The brand new Scientology Mission center which John Travolta helped open just two weeks ago has been vandalized and RadarOnline.com has the exclusive photos of the graffiti damage.
The letters "ANON" were spray painted on the windows of the mission in downtown Ocala, Florida early Wednesday morning, before the center opened at 1pm. The blinds were drawn still when the first photos were taken showing the letters on the glass.
Article continues below advertisement
"Anonymous" is the internet based group that has wagered attacks against Scientology in the media, often with videos claiming that the organization is a criminal organization.
John Travolta and his wife Kelly Preston live in Ocala and were at the opening of the new Mission on May 29. The actor broke down in tears while thanking the town for the support given to his family following their "intense loss" of their son Jett, who tragically passed away in 2009.
"This community protected us and safeguarded us. When the chips are down, you know who your friends are. Our friends are right here," Travolta said to the crowd of 1000 people. "So the biggest gift I can give you in return is this mission." Kelly Preston walked on stage and gave him a tissue and a hug, according to the Ocala Star Banner newspaper.
The Scientology Mission of Ocala is 4, 500 square feet and the restoration was a $500,000 project for the organization.
Article continues below advertisement
A spokesperson for the Church of Scientology released the following statement to RadarOnline.com: "Anonymous is an internet-based criminal organization currently under investigation by the United States Department of Justice, local law enforcement, and law enforcement agencies in the United Kingdom and Spain, among others.
"Anonymous has claimed responsibility and is currently under investigation for its attacks on Visa, MasterCard, PayPal, Sony's PlayStation Network, the Church of Scientology, the Spanish government and national police, as well as for crashing the Australian government's websites in response to Australia's attempts to curb the spread of child pornography on the internet.
"Anonymous declared a war against the Church of Scientology and has claimed responsibility for attacks on the Church, including: anthrax threats; bomb threats; death threats; arson threats; and, kidnapping threats. These crimes, among others, are currently part of an open hate crimes investigation by the United States Department of Justice."
RELATED STORIES:
Proud Parents John Travolta & Kelly Preston: 'We're Beyond Ecstatic'