Exclusive
Florida Man Files OUTRAGEOUS Allegations Against Kardashians, Pleads For Restraining Order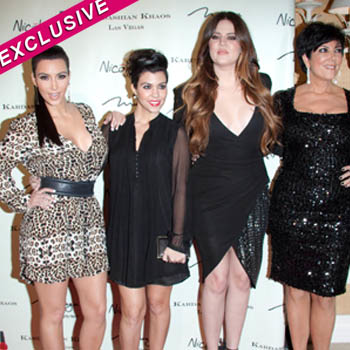 By Amber Goodhand - RadarOnline.com News Editor
A Florida man has filed for a temporary restraining order against the Kardashians — twice — and RadarOnline.com has all the exclusive details of the man's outrageous allegations.
Gino Romano filed court documents on June 14, 2012 and claims that on June 10, 2012 he was assaulted by Kim, Khloé, Kourtney and Kris Jenner while at Busch Gardens in Tampa, Florida, but Judge Moody denied the request for protection the next day calling the motion "frivolous."
Article continues below advertisement
EXCLUSIVE DOCUMENTS: Florida Man Files Outrageous Allegations Against The Kardashians
In Romano's initial plea he claims, "Khloé Kardashian put me in a head lock and Kourtney Kardashian stuck her heel in my eye and Kim Kardashian put brass knuckles on and punched me in the teeth, Kris Kardashian Jenner pulled out mace and sprayed me while Kim Kardashian pick pocketed my Levi's and stole my wallet."
The man goes on to say he filed a police report because he is scared for his safety.
"Also Kris Jenner ripped my diamond earring out and put it in her own ear and is telling people Bruce Jenner gave it to her for Memorial Day, and Kim Kardashian threatened to get Kanye West to shove a microphone in my throat," Romano alleges in the documents.
"I was forced to bed confined sic because my head is injured from Kardashian assassination attempt against me, but I know they are coming back, because Kim Kardashian told me this in Arnold Schwarzenegger's voice."
Article continues below advertisement
After Judge Moony rejected Romano's plea for a restraining order, he filed yet another set of paperwork against the Kardashians claiming he was assaulted by them on June 11, 2012 while at Walt Disney World.
The second request for a temporary restraining order states that Romano faces "imminent danger and bodily harm from the Kardashians and Kris Jenner."
More outrageous allegations fill the document, with claims that Kourtney tasered Romano, Kim whispered '…gonna get you sucker,' and Khloe was dressed as a sumo wrestler and slammed him into the curb.