Exclusive
Kris Humphries 'Booty Call Girl' Has 'Thousands of Texts' Proving A Relationship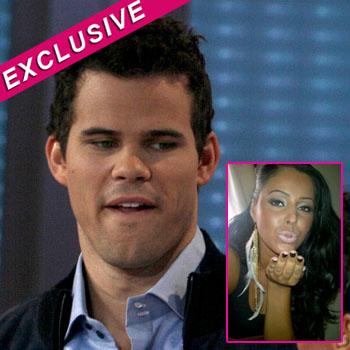 Article continues below advertisement
"It's absolutely preposterous for Kris Humphries to claim that my client tried to extort him for millions of dollars," Myla's lawyer, Joe Tacopina tells RadarOnline.com exclusively. "First of all, as soon as pictures were made public of Myla and Kris, he changed his cell phone number and cut off all contact with her. Myla has never asked Kris Humphries, or his lawyers, for any money. She never asked for one cent from him.
"Secondly, Myla has thousands of text messages from Kris, he would text and call her at least 50 times a day. Does that sound like a casual relationship to you? Kris did tell her he loved her in some of the text messages. On days Kris would have basketball games, he would call and text her a lot as well."
Meanwhile, as RadarOnline.com previously reported, as Humphries prepares for his showdown with Kim Kardashian, Myla might be willing to assist the E! reality star in the divorce proceedings. "My client isn't going to rule anything out at this point including whether or not she would be willing to assist Kim Kardashian in her divorce case. I will say this, Kris Humphries has to be the only 7ft. man in the universe to have two women under 6ft tall bully, defraud and attempt to extort him. It's absolutely ridiculous," Tacopina previously told RadarOnline.com.
Article continues below advertisement
The crux of Humphries' legal claim against Kardashian in the divorce proceedings is that he was duped into marrying her on false pretenses and that the marriage was based on fraud.
"It would be pretty hard to claim that you are broken hearted if you are dating my client just two months after the marriage broke up. My client's relationship with Kris goes to the heart of his claim against Kim Kardashian and that could hurt him, certainly," Tacopina asserts.
"We would be more than willing to meet with the FBI and turn over all of the text messages and other forms of electronic communication between Kris and Myla. Although, I seriously doubt we are ever going to hear from the FBI because there just isn't evidence to even suggest that Myla asked for money from Kris."
"Kris is just going to let the FBI handle this. He is focused on basketball, period," a source close to the athlete tells RadarOnline.com.