Exclusive
Kim Kardashian & Kris Humphries Divorce Depositions Won't Be Filmed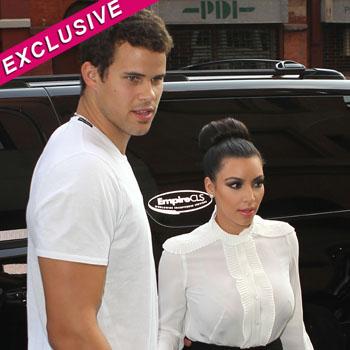 Article continues below advertisement
"Both parties mutually agreed that it wasn't necessary to have Kim and Kris' deposition filmed," a source close to the case tells RadarOnine.com exclusively. "There will be a private stenographer present that will provide a transcript of the proceedings. There was concern about the depositions being filmed and then getting leaked to the media. To ensure that won't happen everyone recognized and agreed to not have proceedings filmed. However, Kris' lawyer, Lee Hutton has told Laura Wasser that they absolutely intend to ask that cameras be permitted in the courtroom when this divorce goes to trial.
"This is absolutely going to trial and it's not about money. Kris wants Kim to publicly acknowledge that the marriage was fraudulent and he wants an apology. Of course, if Kim were to do so, a messy divorce trial could be avoided. Team Humphries has been told in no uncertain terms though that is never going to happen.
"Kim is just livid that she has to be deposed. She has tried to get out of it, but there is no way she can," the source adds. "Kris is ready for his deposition to be taken and just wants the truth to get out about what he says really happened when they were dating and after the wedding," the source reveals.