Muy Caliente! Kim Kardashian Sizzles In Cut-Out Swimsuit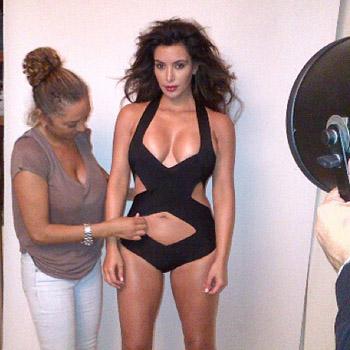 Love her or hate her, there's no denying that Kim Kardashian knows how to work a swimsuit.
The reality star showed off the results of her increased gym workouts by tweeting seductive pictures of herself from a shoot for Latin America's Esquire magazine.
The black costume dipped low in the front to reveal her cleavage, was cut out at the side to show her tiny waist and had a diamond opening to showcase her flat stomach.
Article continues below advertisement
With a wind machine blowing her hair and her skin tanned to perfection, the 31-year-old was camera ready after being adjusted by her stylist.
Kim shared another image showing her back against a mosaic wall as she teetered in a pair of gold heels.
But Kim wasn't being totally self-indulgent and showed that she is the supportive girlfriend to new beau Kanye West.
"Sickest video ever!!! #NoChurchInTheWild… Proud girlfriend tweet," she wrote about the rapper's new music video.