Exclusive
Kris Humphries To Meet With FBI & Turn Over Text Messages From Booty Call Girl!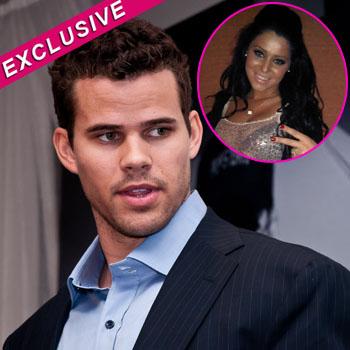 RadarOnline.com Assistant Managing Editor
NBA star Kris Humphries will meet with the FBI this week to turn over text messages and emails from his former booty call, Myla Sinanaj, because she allegedly attempted to extort him for millions of dollars, RadarOnline.com is exclusively reporting.
As we previously reported Humphries was spotted earlier last week hanging out at the beach in Miami with Sinanaj, but a source close to the situation insists that the two are categorically NOT in a serious relationship. The Kim Kardashian look-alike was telling various media outlets that she was Humphries' girlfriend. Humphries is gearing up for a nasty divorce battle with the real Kardashian, his wife of only 72-days.
Article continues below advertisement
"Myla is truly acting like woman scorned. She didn't get what she wanted from Kris and threatened to go to the press and ruin him if he didn't pay her off. Myla wanted millions of dollars; it was totally outrageous. Kris has nothing to hide and decided to have his attorney, Lee Hutton, contact the FBI. Kris will meet with the FBI this week and turn over text messages and emails he had exchanged with Myla. Kris had to to go to the FBI because he truly believes that she is capable of making up crazy lies about him. Kris will fully cooperate with the FBI and do anything that is asked of him," a source close to the situation tells us.
Meanwhile, upcoming depositions scheduled for Kardashian and Humphries in their bitter divorce battle will not be videotaped, but the NBA star still wants television cameras rolling during the actual trial. The E! reality starlet's deposition will take place in Los Angeles at her lawyer Laura Wasser's office while Humphries' will be conducted in Minnesota, and both are scheduled to take place in the next two weeks.
Article continues below advertisement
"Both parties mutually agreed that it wasn't necessary to have Kim and Kris' deposition filmed," a source close to the case tells RadarOnine.com exclusively. There will be a private stenographer present that will provide a transcript of the proceedings. There was concern about the depositions being filmed and then getting leaked to the media. To ensure that won't happen everyone recognized and agreed to not have proceedings filmed. However, Kris' lawyer, Lee Hutton, has told Laura Wasser that they absolutely intend to ask that cameras be permitted in the courtroom when this divorce goes to trial."