Exclusive
Kris Humphries Wants To Know If Kim's Relationship With Kanye Is A Publicity Stunt!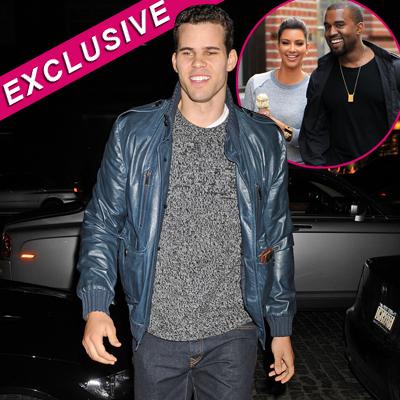 RadarOnline.com Assistant Managing Editor
Kris Humphries wants to know if his soon-to-be-ex-wife Kim Kardashian's relationship with music mogul Kanye West is just another a publicity stunt, but not because the NBA star wants to know for personal reasons, rather, to aide his ongoing divorce case with the reality star, RadarOnline.com has exclusively learned.
As we previously reported, Kardashian is already backtracking on her recent vow to keep her love life off camera. Kim and Kanye's PDA filled date night Monday at the opening of Scott Disick's restaurant RYU in New York was all caught on camera for an upcoming episode of Kim's reality show.
Article continues below advertisement
"Kim and Kanye are making sure that so many aspects of their new relationship are going to be filmed, it will make for great TV!" a source told RadarOnline.com.
Humphries' divorce attorneys plan on grilling Kim about her new relationship during the potential upcoming divorce trial that the NBA star is pushing for.
"The crux of Kris' case for annulment is that Kim married him under fraudulent pretenses and did it for her reality show. Team Humphries wants to know if producers of the Kardashian reality shows were in contact with Kanye West prior to the new couple dating or going public with their relationship and what those conversations consisted of," a source close to the situation tells RadarOnline.com. "When did Kim develop romantic feelings for Kanye and why after publicly stating she wouldn't feature any future romantic relationships on her reality shows, did she do a complete 360?"
Meanwhile, the former couple, who have now been haggling over their divorce for longer than their 72 day marriage lasted, haven't spoken to each other in months.
"It's sad that they can't even be amicable or friendly because Kris did truly love her and has only wanted the best for her," the source says. "He is no longer in love with her though, he has moved on and is definitely enjoying being single. He is dating again but no one serious because the divorce is a long way from being made legal and he isn't ready to get serious with anyone at this point. Surprisingly, Kris hopes that Kanye isn't using Kim for publicity because, again, he doesn't want to see her hurt."
MORE ON:
Celebrity Justice
Article continues below advertisement
As RadarOnline.com previously reported, the Kardashians just inked a new three season deal for Keeping Up With The Kardashians. "The deal covers seasons seven, eight, and nine and also extends to E!'s first-look deal with the Kardashians for unscripted ideas, concepts and projects," according to Deadline Hollywood.
"Kris was surprised to learn that Kim was including her new relationship with Kanye on the show. He is so relieved though that the public will only see him on television now when he is playing basketball," the source said.