You Don't Say! Kim Kardashian Confesses To Twitter Obsession, Loves To Trash Talk Her Haters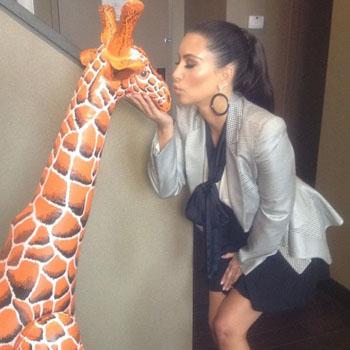 Article continues below advertisement
"I love writing them back. People will write me, "My phone battery lasts longer than Kim Kardashian's marriage,' and I'll write back, 'Oh, which phone is that?'" Kim tells Papermag.com of her witty responses.
"When people are so stupid, you just have to have fun with it. Someone without a profile photo will say I'm fat, or a hairy Armenian, and I'll write back, 'Oh, that egg picture of yours is so gorgeous.'"
Kim, who recently started dating rapper Kanye West, said she thinks she owes her success to the internet and thinks she wouldn't be famous without the world wide web.
"I think a lot of our fan base and a lot of our connection with people is Internet based. I think that the Internet has brought on a different kind of celebrity. We are very well aware of who we are and what our place is. We are so active on Twitter, on our Facebook pages, we are writing back, we are connecting. We enjoy it," she says.
Article continues below advertisement
Kim also says she doesn't usually delete things she's said that have offended anyone, but she did get rid of a profane Tweet once.
"One time I wrote, 'F**k yeah!' and all my younger fans were like, 'What are you turning into?' So I deleted it."
Khloe Kardashian On Cosmo, Lamar Leaving Dallas And Kim & Kanye
Her younger sister says she also doesn't get rid of Tweets, unlike her brother Rob Kardashian, who she calls bipolar when it comes to his on-line habits.
"I don't delete things. You look like such a little punk when you delete things," Khloe says. "You should have kept that 'F**k yeah!' Our brother Rob deletes almost every tweet and follows people and then un-follows them. If he's in the mood to just date random people, he follows them, then un-follows. He un-follows me like once a month. He's bipolar on Twitter."
RELATED STORIES:
Kris Humphries Slams 'Publicity Hungry' Kim Kardashian: 'Is There Anything You Won't Do?'