Kris Jenner Tweets Pic Of Kim Kardashian Sleeping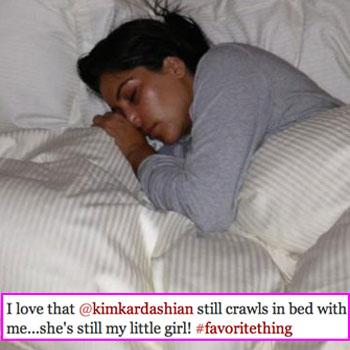 Trying to get a nap in before her Kardashian Kollection launch event in Chicago Friday, Kim K climbed into bed with her mom Kris Jenner....who couldn't help herself from sharing the scene with her two million followers.
"I love that @kimkardashian still crawls in bed with me...she's still my little girl! #favoritething." Kris tweeted along with the pic of a sleeping Kim.
For her part, Kim was snapped wearing no make-up with her hair casually pulled up.
Article continues below advertisement