Exclusive
Kris Humphries Wants To Know If Kim Kardashian Spent Any Money On Kanye West While They Were Married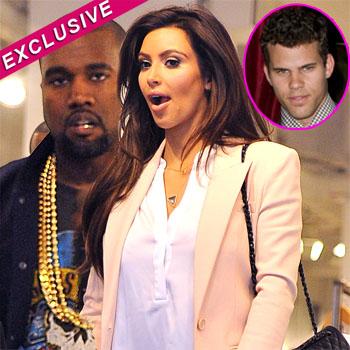 Kris Humphries has instructed his divorce attorney to determine if his soon-to-be-ex-wife, Kim Kardashian, spent any money on her boyfriend, Kanye West, while the former couple were married, RadarOnline.com is exclusively reporting.
As we previously reported, Kim was snapped slinking out of Kanye West's NYC apartment last Thursday morning wearing the same outfit she was wearing on her date with the hip hop star on Wednesday.
Article continues below advertisement
Despite reports that say Kim and Kanye started dating just two weeks ago, sources tell RadarOnline.com that Humphries says that it has been on/again off/again between his estranged wife and the Grammy award winning hip hop star for much longer.
Even though California is a no-fault divorce state, if a spouse spends money on a lover while married, the other person is legally entitled to recover those funds.
"Kris absolutely wants to know if Kim spent money on Kanye while he was married to her. If Kim took Kanye out to dinner, bought him any gifts, etc., Kris wants to know how much she spent, if anything at all. Under the law in California, Kris is legally entitled to that money and he deserves it, if it can be proven," a source close to the situation tells RadarOnline.com exclusively.
Humphries is a fan of Kanye's music, despite the fact that he was dissed by the bad boy rapper in his new single, Theraflu. "One of Kris' favorite songs of Kanye's is his hit single, Golddigger. Kris especially likes the chorus of the song, "Now I ain't sayin' she a gold digger/When I'm in Need/But she ain't messin' with no broke ni**as." Kris is having a lot of fun listening to that song, and he thinks that Kanye and Kim truly do deserve each other," the source says.