Khloe & Lamar Crisis: He's Dumped By NBA Team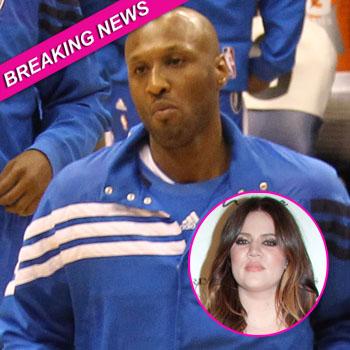 Lamar Odom's time with the Dallas Mavericks has come to an abrupt halt.
"The Mavericks and I have mutually agreed that it's in the best interest of both parties for me to step away from the team," Odom, the husband of reality star Khloe Kardashian, said in a statement to ESPN.
"I'm sorry that things didn't work out better for both of us, but I wish the Mavs' organization, my teammates and Dallas fans nothing but continued success in the defense of their championship."
Article continues below advertisement
The veteran forward will be on the inactive list for the rest of the year, leaving Mark Cuban's organization with the option to trade him if they so choose.
Lamar, 32, easily had the worst season of his career in Big D, averaging a paltry 6.6 points-per-game and 4.2 rebounds-per-game in 50 games with the league's reigning champs. After a phenomenal year in 2010-2011, he was clearly disheartened after the Los Angeles Lakers dealt him twice over the off-season.
MORE ON:
hollywood happenings