Lamar Odom In Tears, Khloe Kardashian Racked With Guilt Over Lakers Trade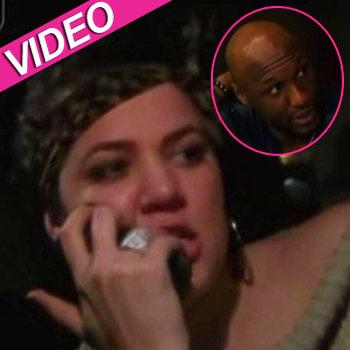 The show goes on for Lamar Odom ... even if it's not the Lakers show.
Sunday's episode of Khloe & Lamar chronicled the anguish both Odom and wife Khloe Kardashian went through after the power forward was surprisingly dealt from the Los Angeles Lakers to the New Orleans Hornets in the off-season.
Khloe was on a plane when she heard the news Lamar had been traded in a mega-swap with the New Orleans Hornets that would have brought All-Star point guard Chris Paul to Los Angeles.
Article continues below advertisement
"I feel so guilty that I'm not there with him right now," Khloe said. "This is a nightmare situation ... I don't understand how on a five-hour flight how Lamar got traded to New Orleans."
The Lakers deal was eventually nixed by the league, and Paul landed in the City of Angels anyway as a member of the rival Clippers. But the damage was done for Lamar, who all but discarded his purple and gold upon hearing he'd been a pawn in their quest to land the apex assist man.
"I don't want to be on a team that doesn't want me," Odom told Khloe, spurring Khloe to tell his agent, "If he wants to get traded, somewhere let's trade him."
Soon thereafter, the Lakers, fearing a malcontent in their clubhouse, acquiesced to their request, moving the veteran to the Dallas Mavericks.
"It's pretty hard packing up our belongings," Khloe said as she prepared for the move to Big D. "Lamar is my number one priority and I've got to stay strong. We've got to fake it until we make it"
Article continues below advertisement
In the wake of the trade, Lamar has struggled miserably since leaving his sixth man post with Los Angeles, averaging a paltry 6.9 points-per-game and 4.3 rebounds-per-game. Those numbers are dwarfed in comparison to the career year Kim Kardashian's soon-to-be-ex husband Kris Humphries is having, totaling 13.4 points-per-game, 10.9 rebounds-per-game as a New Jersey Net.
Khloe & Lamar airs on E! Sunday at 10/9.