Relegated! Lamar Odom Is Demoted From The Dallas Mavericks To The D-League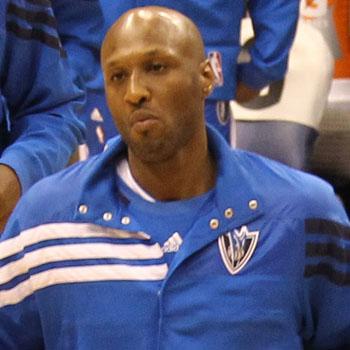 By Debbie Emery - Radar Reporter
Lamar Odom's highly anticipated return to the Dallas Mavericks has fallen flat as he has been demoted to the D-League, RadarOnline.com is reporting.
Once a star forward for the Los Angeles Lakers, Khloe Kardashian's  husband will now be playing for the Mav's affiliate team, the Texas Legends, on Saturday in nearby Frisco, according to ESPN.com.
The move is a major slap in the face for 32-year-old Odom, who as RadarOnline.com previously reported had recently canceled games to be by the side of his ailing father, Joe, back in L.A. and has not hit the court with his teammates since February 20. 
Article continues below advertisement
"He has been excused to tend to a family matter. He will rejoin us after the All-Star break," said Coach Rick Carlisle at the time, but instead the reality star didn't arrive back in Dallas until Wednesday, where team owner Mark Cuban reportedly met with Odom and his agent, Jeff Schwartz, to work on a timetable that would ease him back into the fold after his weeklong personal leave.
Mavericks point guard Jason Kidd revealed that Lamar's inconsistent effort and extended absence was worrying for his teammates.
"Trust factor is always big," Kidd said, according to ESPN. "For that, he's going to have to earn it with a lot of the guys. But we all give second chances, third chances. For that, we just want him to be him and be comfortable and play."
Meanwhile, an NBA source revealed to RadarOnline.com that the root of Lamar's problems was most likely in his head, not his shooting hands. "He's been struggling with the offense on the Mavericks. The Lakers ran an offense called 'The Triangle' under former coach Phil Jackson, and he was Lamar's coach the entire time," said the insider.
Article continues below advertisement
"No one else in the league plays an offense like that so he's been struggling with playing with the Mavericks, who play a more traditional offense.  Plus because of the NBA lockout and his late trade, he missed out on the benefit of training camp to learn the ropes.
"However, the Lakers aren't playing that this year under new coach Mike Brown, so it is possible that Lamar could have struggled anywhere," he explained.