Exclusive
Fur-Lovers Kim Kardashian And Kanye West Are PETA's Most Hated Couple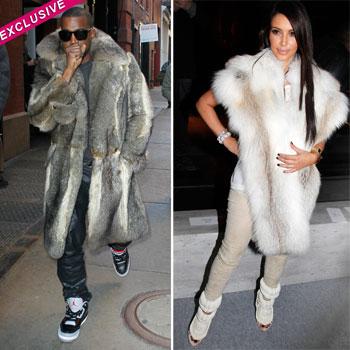 By Debbie Emery - Radar Reporter
From their high-spending habits to a thirst for fame, hot new couple Kim Kardashian and Kanye West have plenty in common, but it is their mutual love of fur that has infuriated animal rights group PETA, RadarOnline.com is exclusively reporting.
"If a shared obsession for the dead skins of tortured animals is a recipe for love, Kim and Kanye are a match made in heaven," Wendy Wegner, spokesperson for People For The Ethical Treatment of Animals tells RadarOnline.com in an exclusive interview.
Article continues below advertisement
As RadarOnline.com previously reported, the former Mrs. Kris Humphries was snapped slinking out of Kanye's NYC apartment Thursday morning after the pair had a movie date to see The Hunger Games the night before.
Neither side of the new Hollywood power couple are strangers to PETA standoffs. Kim paid for her fur-wearing habits last month when an activist flour-bombed her on the red carpet, and Kanye got into an angry war of words with the group earlier this week after he slammed them in his new single, Theraflu.
"Someone tell PETA my mink is draggin' on the floor," West raps in the song, that also reveals how he fell in love with the soon-to-be twice-divorced reality star. "And I'll admit I fell in love with Kim/ Around the same time she had fell in love with him," the lyrics continue.
Clearly not a Kanye fan, PETA's senior vice president Dan Mathews issued a statement on Thursday saying, "What's draggin' on the floor is Kanye's reputation as a man with no empathy for animals or human beings."
Article continues below advertisement