Kim Kardashian Plays Coy Over Kanye West Romance On Today Show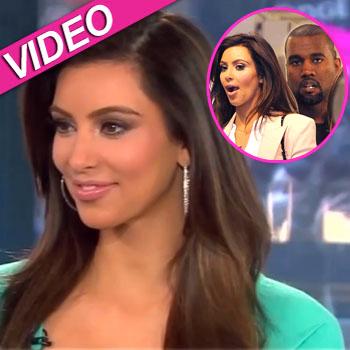 Kim Kardashian played it coy on The Today Show Friday when asked about her blooming romance with Kanye West, as the media-saavy reality TV star left her comings and goings to the public's imagination, a day after she and the controversial rapper spent the day in New York taking in The Hunger Games.
When Today host Ann Curry asked her about the rumored hook-up with the 34-year-old hit-maker, Kim played her cards close to the vest.
Article continues below advertisement
"I completely respect and understand that you have to ask these questions ... Kanye and I have been friends for years," the E! Star said. "You never know what the future may hold."
Kim joked the movie "was really interesting," noting she was relieved host Matt Lauer wasn't conducting the interview, as he and Kanye have bad blood dating back two years.
As we previously reported, in Kanye's new single Theraflu, he holds little back, rapping about how he "fell in love with Kim."
Of course, RadarOnline.com readers will recall we reported in January about Kim and Kanye's paths crossing, following Star magazine's exclusive chat with Kanye's ex Amber Rose.
Watch the video on RadarOnline.com
"They were both cheating," Amber told Star exclusively, saying Kanye and Kim hooked up while they were both in high-profile relationships: Kanye with her and Kim with NFL running back Reggie Bush. "They were both cheating on me and Reggie with each other."
Article continues below advertisement
Asked about ex New Jersey Net Kris Humphries seeking an annulment, Kim Friday said she's "closed that chapter" in her life and "ready to move on."
As for the idea that the marriage was a publicly stunt to boost her family's TV empire, Kim called the notion "ridiculous.
"Why would I marry someone for ratings?" she said, noting the show does fine without having to resort to such gimmicks.
"I really believe this whole experience has changed me for the better," she said of the ill-fated union to the hoops star, which famously lasted a mere 72 days.
The Most Surprising 3-Minute Wedding You'll Ever See
Kim also commented on the flour bombing fiasco that went down in West Hollywood last month, pointing out the hypocrisy of activists who preach non-violence toward animals, while displaying no such goodwill to their fellow human beings.
Keeping Up With The Kardashians premieres Sunday, May 20 on E! At 9/8c.
The new issue of Star, on newsstands now, has surprising revelations about how Kanye cheated with Kim while she dated Kris, prior to her televised wedding.
Article continues below advertisement