Kanye West - 'I'm Not Performing On The Today Show'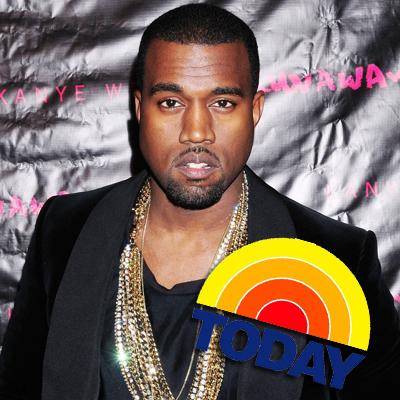 Kanye West, following this week's tension-filled Today Show appearance with Matt Lauer, has cancelled his scheduled appearance to perform on NBC's morning franchise the day after Thanksgiving, RadarOnline.com has learned.
The Paranoid singer withdrew from the Today Show after he felt he was sandbagged by Lauer in regards to his ill-received stage crashing during Taylor Swift's win at the 2009 Video Music Awards. During the interview, the show played file video of the incident in the background, prompting West to bark, "Yo, how am I supposed to talk when you gonna run the thing in the middle while I'm talking? Please don't let that happen again, that's ridiculous."
Article continues below advertisement
Late Thursday, West took to Twitter to explain why he ditched the appearance in a long-winded, opinionated rant where he complained about the way he perceived the show to present him.
"I'm not performing on the Today Show for obvious reasons. I'm so happy the world got to see just a small piece of 'the set up,'" he wrote. "I blatantly said I'm not performing on a tweet and to everyone around me and the next day they still announced a performance.
"Do you guys see what I'm saying now... this is just a small slice of the day to day bulls*** that goes on that helps to precipitate," West wrote. "The idea that I such an a****** .... cause when I don't perform oh noooow I'm the one that's crazy or a jerk! If I hadn't tweeted about how they set me up at the show they would have never played the extra footage that displayed how disrespectful.
"I want you guys to look at that footage and start to put everything together now," West continued. "It's very simple to call someone angry or spoiled or ... the one thousand names I've been called but it's harder to try to take a look at what's really behind the curtain. I'm so happy that my real fans are not as 'basic' as the media makes them out to be."
Article continues below advertisement
Lauer said that was there was "nothing unusual or improper about" playing the Swift clip in the background.
Kanye's response to that?
Kanye West Apologizes To Taylor Swift With New Song
"Did you see them try to justify playing the audio under my interview?" West Tweeted. "Yo sometimes you're just wrong and it ain't nothing you can say to justify it believe me I know!
"And I don't hate Matt Lauer," he wrote. "We don't promote hate. That's the whole point!!! I promote love and truth!"