Kanye West Evasive About Kim Kardashian Relationship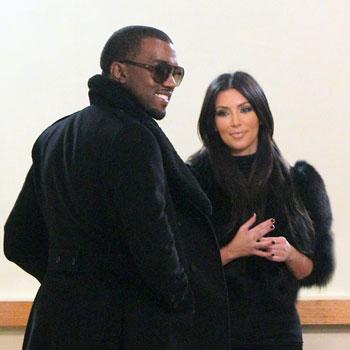 It's not very often you find Kanye West at a loss for words, but the rapper was evasive Thursday morning when asked by a Detroit radio show about his relationship with Kim Kardashian RadarOnline.com has learned.
"There's pictures of us hanging out?" West questioned when confronted by Mojo in the Morning about Kardashian.
"Man, I need to get on the Internet more!"
After some urging from the radio personalities to just admit his relationship with Kardashian, West paused and opted to dance around the question.
Article continues below advertisement
"Well, that's what you said," he answered.
While West kept mum about Kardashian, he had no problem opening up about the other famous woman in his life, Taylor Swift.
Listen to Kanye West on Mojo In The Morning
The two were rumored to have recently made up after their infamous run-in at the 2009 MTV VMA's, but West still peppered his apology with hints of sarcasm.
"I feel like when Taylor was getting all those magazine covers, she was all good then," West said about the aftermath of him stealing her stage time.
"I feel completely empathetic and sympathize with that moment of her feeling bad, that spawned her to have one million magazine covers and be the most popular artist in the world, but in that moment of her feeling bad, I do feel bad about being the cause of that."
Article continues below advertisement
West went on to describe his chat with the Love Story songstress.
"When I talked to Taylor I asked her, 'What do you feel?'…and I said we know I was rude, I'm sorry, I cut you off. Awards shows play music…they cut people off all the time," West said.
"Personally, I'm better than I've ever been. I'm patching up my public image and where I am as an artist and where people perceive me."