Exclusive
Khloe Kardashian Says Lamar Odom Has Been 'Depressed & Moody' For Weeks, Claims Source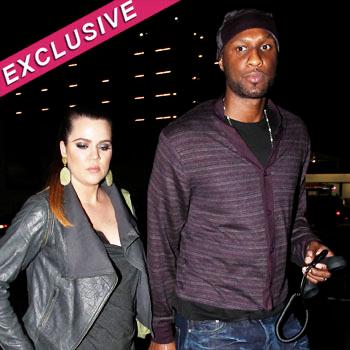 Article continues below advertisement
Even though Khloe embraced the move to Dallas, Lamar never found his footing with the Dallas Mavericks. "Lamar hasn't gotten over being traded from the Lakers, and he has been depressed and moody ever since the trade happened. Lamar felt that he was ripped away from his Laker family with no warning or notice. He couldn't fathom the fact that the Lakers traded him after all of his years with the team," a source close to the couple tells RadarOnline.com. "Khloe has been extremely supportive of Lamar, but she is growing increasingly concerned for her husband because she has never seen him like this before."
The veteran forward will be on the inactive list for the rest of the year, leaving Mark Cuban's organization with the option to trade him if they so choose.
Lamar, 32, easily had the worst season of his career in Big D, averaging a paltry 6.6 points-per-game and 4.2 rebounds-per-game in 50 games with the league's reigning champs. After a phenomenal year in 2010-2011, he was clearly disheartened after the Los Angeles Lakers dealt him twice over the off-season.
Article continues below advertisement
"Lamar is just lost right now, and Khloe is hoping once they move back to Los Angeles and he is back in familiar surroundings, he will get out of his funk. Lamar wants to keep playing basketball but it might be time for him to retire, which has Khloe even more concerned," the insider tells RadarOnline.com.
RELATED STORIES:
'Too Much Drama' Led To Lamar Odom's Release From Mavericks