Khloe Kardashian On Cosmo, Lamar Leaving Dallas And Kim & Kanye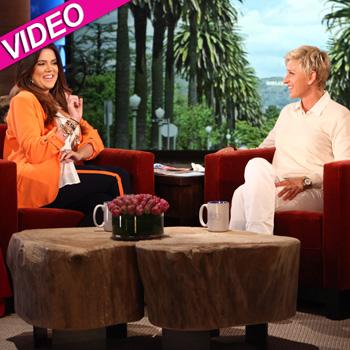 Khloe Kardashian's a virtual open book on Wednesday's edition of Ellen, touching on hot topics like her upcoming cover of Cosmo, hubby Lamar's recent severance with the Mavericks, sister Kim's romance with Kanye West and if she hated Kim's ex Kris Humphries as much as it seemed in front of the cameras.
Khloe said she was "so honored" to appear on the cover of Cosmopolitan "because I've always been ridiculed about my weight.
Article continues below advertisement
"They're always saying, 'I'm not the prettiest sister,' or 'I'm too fat' or that," the confident reality diva said. "So when they asked me to be a on a cover like Cosmo, it was a big deal for me to show off my curves, and I don't have to be a size zero to be on the cover."
Khloe added, "I have an amazing husband who loves my body and tells me all the time how beautiful I am, and my sisters do too."
Speaking of her husband Lamar -- who parted ways with the Mavs this week after a brief, unmemorable run -- Khloe said she and the power forward will move back to L.A. following the transaction.
"We're sad that especially with the season almost over and we're not able to finish the season with the Mavericks," she said. "But it's been such an amazing organization to be part of and to move to Dallas even though it was short, except for those tornadoes!"
Watch the video on RadarOnline.com
Of course, Ellen asked Khloe about her sister Kim's rumored romance with Kanye West, which had the media abuzz last week forecasting the next super-couple.
MORE ON:
hollywood happenings
Article continues below advertisement
"Honestly, we've known Kanye forever: he's been a great family friend," she said. "I love Kanye. I don't know what happens with Kim. I love Kanye. I think they're cute together ... I like Kanye. I think Kim and Kanye have known each other for a long time.
"I think that they're good friends and they're compatible."
Of course, we all know Khloe wasn't nearly as supportive of Kim's ex Kris Humphries, but Khloe Wednesday swears she likes Kris as a person -- just not as an in-law!