Exclusive
Kobe Bryant Seeks Temporary Restraining Order; Claims Company Selling Fake Memorabilia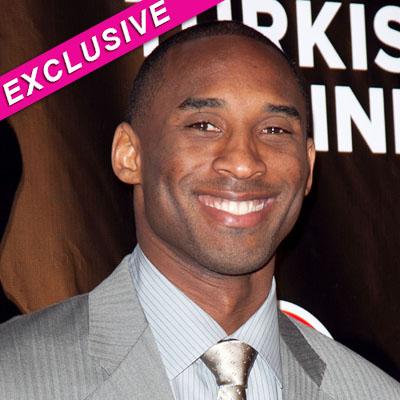 By Jen Heger - Radar Legal Editor
Kobe Bryant is asking a federal judge to issue a temporary restraining order against Art of the Game, a sports memorabilia company that he claims are selling items with his signature, which the NBA star says are fake.
Bryant signed a merchandising deal with Panini America, which can use his name, likeness, photograph, signature on sports themed merchandise that Panini sells. Panini filed a lawsuit against Art of the Game in May, claiming they have an exclusive licensing deal with Bryant, and that Art of the Game had no right to use the NBA star's likeness.
Article continues below advertisement
EXCLUSIVE DOCUMENTS: Read Kobe's Petition For A TRO
Bryant says in his sworn declaration in support of the request for the temporary restraining order against Art of the Game, "I believe that there is a strong likelihood of confusion if Art of the Game is allowed to continue to marketing and selling memorabilia with the Attributes and bearing my purported signature without a proper signature of authenticity."
EXCLUSIVE DOCUMENTS: Read Kobe's Sworn Declaration
DOCUMENT: Kobe Bryant Named In Lawsuit
As RadarOnline.com previously reported, Panini officials say they sent out private eyes to buy Kobe merchandise sold by The Art the Game without permission. Among the stuff allegedly bought from The Art of the Game, according to the lawsuit, were photos and posters that the company claimed were signed by Bryant. Panini claims the signatures were counterfeit, which Bryant also asserts.
Article continues below advertisement
The temporary restraining order, which hasn't been signed by the judge yet, would prohibit Art of The Game from "using Kobe Bryant's name or likeness in any advertising or exhibition; destroying, removing, overwriting, transferring possession of deleting, selling, hiding, secreting, or otherwise disposing of evidence related to Kobe Bryant, or the claims and facts involved in this actions."
Keith Fink, attorney for Art of the Game told RadarOnline.com: "Art of the Game's owners have impeccable reputations in the sports memorabilia world and have represented scores of athletes including Muhammad Ali, Sandy Koufax and Joe Namath. The allegations made by Panini are false and the signatures on the memorabilia are Kobe's."