Exclusive
Sports Memorabilia Company Slams Kobe Bryant Lawsuit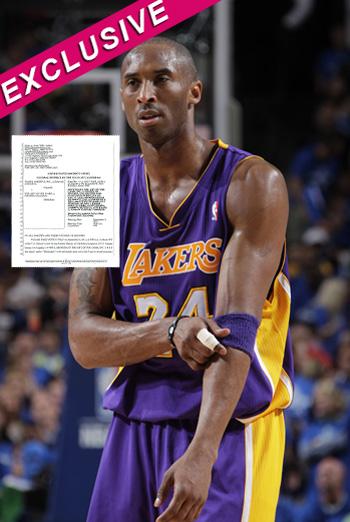 Top sports memorabilia company Art of the Game are spitting mad at a lawsuit that was filed against them by Panini America, for trademark infringement, false advertising and federal unfair competition, over their use of Kobe Bryant's image.
As RadarOnline.com previously reported Panini filed suit on May 9 claiming that they have an exclusive licensing deal with Bryant and that Art of the Game had no right to use the NBA star's likeness.
Article continues below advertisement
EXCLUSIVE DOCUMENTS: Sports Memorabilia Company Fire Back At Bryant Suit
In addition, they claimed that photos and posters Art of the Game advertise as being signed by Bryant are in fact counterfeit, and that Bryant has never even heard of the company.
On Thursday Art of the Game filed a motion for sanctions against their competitor, requesting the court to award monetary sanctions jointly against Panini and their attorneys.
In the filing, which has been exclusively obtained by RadarOnline.com, Art of the Game include a number of exhibits as way of proof that Bryant had indeed knowingly signed posters and photos for them, as well as other evidence they believe proves Bryant knows the company and has worked with them in the past.
Included are two affidavits purportedly signed by Bryant verifying that a number of lithographs had indeed been signed by him and a check Bryant wrote to an artist employed by the company after commissioning a personal lithograph of his wife Vanessa and his mother together.
Article continues below advertisement
Keith Fink, attorney for Art of the game released an exclusive statement to RadarOnline.com: "Art of the Game's owners have impeccable reputations in the sports memorabilia world and have represented scores of athletes including Muhammad Ali, Sandy Koufax and Joe Namath. The allegations made by Panini are false and the signatures on the memorabilia are Kobe's.
"It is noteworthy that Kobe, while claiming to have no knowledge of Art of the Game, toured Art of the Game's store in Staples, signed 110 lithographs from Art of the Game's artist Stephen Holland, signed 23 lithographs by Art of the Game's artist Opie Otterstad and was so impressed with Mr. Holland's work that he commissioned a painting of his wife and mother together through Art of the Game. The declaration of Andrew Bennett makes it clear that Kobe signed the sports memorabilia that Panini claimed he didn't sign."