Kobe Bryant Issues Apology For Homophobic Slur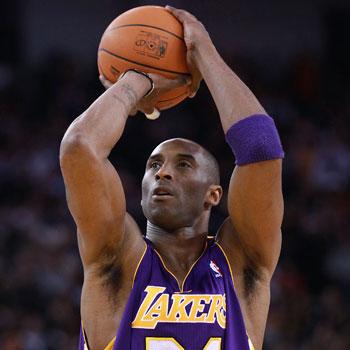 Los Angeles Lakers superstar Kobe Bryant issued an apology to the Gay And Lesbian Alliance Against Defamation following his televised homophobic slur, RadarOnline.com can reveal.
"What I said last night should not be taken literally. My actions were out of frustration during the heat of the game, period," Bryant said in the statement.
"The words expressed do NOT reflect my feelings towards the gay and lesbian communities and were NOT meant to offend anyone."
Article continues below advertisement
The 32-year-old Lakers guard issued the statement in response to the outrage at his reported remarks against referee Bennie Adams in last night's game against the San Antonio Spurs in which TV cameras appeared to catch Bryant directing the words "f**king f*gg*t" to the ref after he was benched.
GLAAD has slammed Bryant for mouthing off the slur to respected referee Adams.
Following the incident, GLADD President Jarret Barrios said, "Discriminatory slurs have no place on or off the court.
"Professional sports players need to set a better example for young people who use words like this on the playground and in our schools, creating a climate of intolerance and hostility.
"The LA Lakers have a responsibility to educate their fans about why this word is unacceptable."
The gay rights group has reached out for a response from the Lakers organization, but so far they have not made an official statement about the incident.
Article continues below advertisement
Ironically, TNT announcer Steve Kerr picked up on Bryant's outburst and said: "You might wanna take the cameras off of him right now, for the children watching from home."
As the frustrated player was benched he hit his seat before sitting down, throwing down a towel and then yelling, "Bennie," toward the court.
Bryant then leaned back and muttered the reported gay slur.
On Monday, the league rescinded Bryant's 15th technical of the season. If it had stood, he would have received his 16th on Tuesday and would have been suspended for the Lakers' season finale. If he receives another T on Wednesday, he will be suspended for the first game next season. Technical counts start over in the playoffs.
GLAAD has worked with sports groups like the New York Yankees, the World Wrestling Federation and the Hershey Bears to address the issue of homophobia in sports.