Gay NBA Retiree Blasts Kobe Bryant For Gay Slur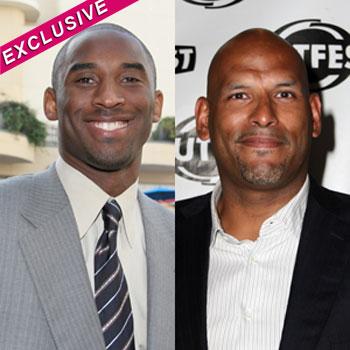 Former National Basketball Association star John Amaechi, the first NBA player to come out of the closet, has slammed Los Angeles Laker Kobe Bryant for calling a referee "a f**king f***ot" during a game against the San Antonio Spurs Monday.
To Ameachi, Bryant may as well used the N-word, he tells RadarOnline.
Amaechi, 40, who played against Bryant in the late 1990s, says he believes Bryant made matters worse by issuing a lukewarm apology and appealing the $100,000-fine that the basketball league levied against him.
Article continues below advertisement
Multi-millionaire Bryant was fined $100,000 by the league for heckling referee Bennie Adams. The baller was caught by live television cameras mouthing the words after being benched.
Speaking from his home in London, Amaechi told RadarOnline.com exclusively: "It was incredibly foolish -- it made matters worse because it was really a non-apology.
"Kobe Bryant who is a culture-setter in today's society and never really fully addressed the implications of what he actually said. He seemed to be apologizing for the way people would interpret what he said, not the literal meaning of it. He did not accept full responsibility."
"The term 'fa***ot' is an awful word and it should be treated as the 'n-word.' People should be totally marginalized by society for saying it.
"I have played against Bryant but I would not claim to know him."
Bryant said he's concerned he set a bad example as a role model. He said he hopes his fans won't "take what is said as a message of hate or a license to degrade or embarrass or tease."
Amaechi retired after stints with the Cleveland Cavaliers, Orlando Magic and Utah Jazz. In 2001, Amaechi wrote Man in the Middle, a book in which he outed himself. The book sparked negative reactions from his fellow NBA alumns. Former Miami Heat star Tim Hardaway went as far as saying he'd have teammates removed if they were gay.