Frugal Mick Jagger 'Negotiated Deals With Hookers,' New Book Claims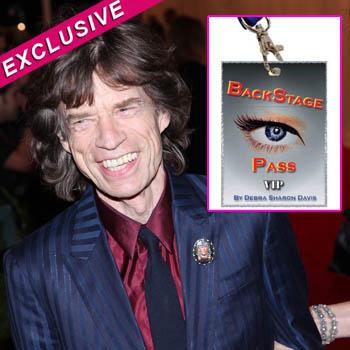 By Debbie Emery - RadarOnline.com Reporter
Throughout his career Mick Jagger has flaunted the image of a reckless rock star, but in reality he has always counted every penny and watched his money - allegedly even with prostitutes.
A new tell-all book titled BackStage Pass VIP describes the legendary Rolling Stones front man as a conservative and cost-conscious capitalist during the band's hay day in the 1970s.
Article continues below advertisement
"Even then, Jagger outlined what he was willing to pay as if he were negotiating the details of a world tour – micro-managing the transactions with call girls in Europe," explains author Debra Sharon Davis.
The pop culture trend expert and historian reveals that Jagger was uncomfortable paying for sex, and always felt he was overcharged and couldn't really appreciate the services of the women he hired.
"Equal to music Jagger loved negotiating. His greatest respect was for businessmen who made a lot of money," explained Davis, who had full access to the Stones when she traveled with the band on their 1982 European Tour. "For Jagger, a conservative, male chauvinist, it was how he defined manhood.
"Like almost all decisions, Jagger addressed the problem fiscally. The ultimate CEO. Jagger worried about law suits from strange women. He was fixated on the bottom line."
Article continues below advertisement
It wasn't just sexy hook-ups that Mick balanced his checkbook for, as he kept an equally close eye on business transactions while the Rolling Stones were on the road.
"On the 1982 European tour in Germany, Jagger made a packed indoor stadium of rowdy kids wait nearly an hour while he calculated box office receipts because he remembered financial inaccuracies years before," Davis recalled.
Now 68 and worth an estimated $300 million, the Sympathy For The Devil singer still keeps a close eye on both his bank account and his bevy of beautiful women, having had countless relationships over the decades, including Bianca De Macias, Jerry Hall and Marianne Faithful, and has seven children by four different mothers.