Ten Of The Dumbest & Most Bizarre Celebrity Tweets Ever!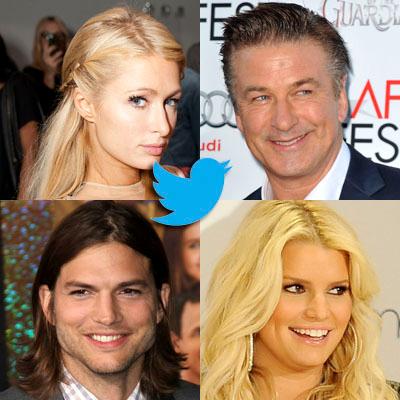 They might have more followers than you and I, but that doesn't make the rich and famous any better at this tweeting.
From the heiress in need of a geography lesson to the comic who joked himself out of the job, RadarOnline.com has compiled a list of the 12 dumbest and most bizarre celebrity tweets -- in 140 characters or less!
12. Don Lemon (CNN anchor turned sour after celeb pseudo-diss) "Said hi to Jonah Hill in hotel. Think he thought I was bellman. Didn't know his name till bellman told me. A lesson to always be kind.
Article continues below advertisement
11. Alec Baldwin (With so many brash gems to choose from, we took this one in which the mercurial New Yorker compared his roughing up of a paparazzo to the Trayvon Martin tragedy): "I suppose if the offending paparazzi was wearing a hoodie, and I shot him, it would all blow over."
10. 50 Cent (on the March 2011 earthquake in Japan, which spurred tsunami warnings): "Wave will hit 8am them crazy white boys gonna try to go surfing."
9. John C. Mayer (The wordsmith responsible for "sexual napalm" gets a taste of his own toe cheese yet again): "BREAKING CELEBRITY NEWS: I was sitting with my legs crossed for too long and my penis fell asleep."
8. Spike Lee: (The outspoken director mistakenly tweeted accused killer George Zimmerman's address … it just wasn't the right address. The elderly Florida couple who actually lived at the address fled in horror, and Spike pocketbook took a hit in smoothing it over. He later wrote, "I Deeply Apologize To The McClain Family For Retweeting Their Address.It Was A Mistake.Please Leave The McClain's In Peace.Justice In Court."
Article continues below advertisement
7. Gwyneth Paltrow: (Caught in the moment tweeting from Jay-Z/Kanye West show, this went over as well as one would expect): "Ni**as in paris for real"
And here we have a pair of tweets making clear why publicists are a celeb's best friend ….
6. Jessica Simpson: "Sometimes learning the language in my head can be just as hard as communicating with someone foreign. alone time on flights get me everytime."
5. Kanye West: "An abortion can cost a ballin' n-- up to 50gs maybe a 100. Gold diggin' b---es be getting pregnant on purpose. #STRAPUP my n---s!"
4. Ashton Kutcher (in response to Joe Paterno's firing, apparently unaware of the late coach's lax attitude toward serial child molesters): "How do you fire Jo Pa? #insult #noclass"
3. Paris Hilton (Sadly, even this March 2011 doozy couldn't maker her relevant again): "No, no, I didn't go to England; I went to London."
Article continues below advertisement
2. Scott Baio (Erin Moran's former co-star knocks an unflattering image of First Lady Michelle Obama): "WOW He wakes up to this every morning"
1. Gilbert Gottfried (Got him canned from Aflac, but probably doesn't even make HIS Top Ten in terms of offensiveness): "I just split up with my girlfriend, but like the Japanese say, 'the'll will be another one floating by any minute now.'"
RELATED STORIES: