Exclusive
LeAnn Rimes Ready To Sue More Twitter Users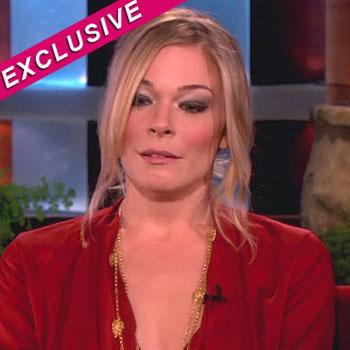 Article continues below advertisement
Now people familiar with the case tell RadarOnline.com exclusively that Rimes' camp believes the star was set up to be recorded and may be adding more defendants to the lawsuit, charging them with conspiracy.
Smiley denies that the phone call was orchestrated in advance.
The call followed months of battles on Twitter between people supporting Rimes versus her detractors. Some Twitter followers recently rallied around Smiley sending out a tweet to raise funds for her and claiming that Rimes is going after her job – an allegation denied by people in Rimes' camp.
"This lawsuit alone is both emotionally and financially draining and now I'm faced with the threat of losing the career that I've dedicated my life to," Smiley told RadarOnline.com in an exclusive interview. She also revealed that she has hired a Los Angeles attorney and been granted a 30-day extension.
Rimes is represented by top Los Angeles attorney Larry Stein.
A fund-raising email for Smiley sent via Twitter reads in part: "Friends, we are just $3000 short of having raised the total retainer fee for Kim & Lexi Smiley. However, her atty has stated that the entire cost will be well over $100,000!"
Article continues below advertisement
The tweet also mentions Rimes' camp's actions possibly costing Smiley her job and continues: "What (they don't) understand is Leann has messed with the wrong woman and her child."
Smiley is furious at the star even as she faces financial devastation.
"LeAnn orchestrated this so it would get the most amount of coverage in the press," Smiley told RadarOnline.com. "They have misrepresented our role in the phone call, as they knew that we were not the ones who released the recording online; they sent a C&D (cease and desist) letter to the person who did, yet they've made it appear that we did.
"As if that is not bad enough, LeAnn has somebody following my private Twitter account and has collected countless screenshots, some of which they've sent to my attorney. She's claiming I invaded her privacy, yet she has collected my PRIVATE tweets."
Smiley's Twitter account has been private for more than nine months and sources confirm to RadarOnline.com that Rimes has seen some of her Tweets since it went private. But a source familiar with the situation tells RadarOnline.com that Rimes has directed her followers not to engage in hostilities with anti-LeAnn people and any Smiley Tweets that may be in the possession of LeAnn's camp did not come from the star. The same source also points out it does not matter if Smiley released the phone call online, the lawsuit alleges she recorded it.
Article continues below advertisement
The issue of how Rimes came to call Smiley is now becoming central in the suit, with Rimes' camp collecting information and believing that at least one person, and maybe more, were involved in setting up the star for a nasty call that would be recorded.
Those people may be added as defendants.
Meanwhile Smiley believes that people are coming after her job and tells RadarOnline.com: "I teach some of the most difficult students; many of them are, at times, dangerous. In fact, I've been off work since February due to a student attacking me. The student shredded my rotator cuff, requiring intensive surgery to repair it. I'm still in physical therapy three months post surgery.
"The student also tore all of the ligaments across my right upper back. I'm seeing a back specialist … to see what can be done to help with the excruciating pain I'm constantly in.
"I miss my students and my job. Having my livelihood threatened, is beyond cruel. LeAnn claims she's starting over fresh, yet she's still holding onto this ridiculous suit against my daughter and me that is based solely on revenge. She is not innocent in all of this."