Relationship With LeAnn Rimes Remains Rocky As Ever, Says Brandi Glanville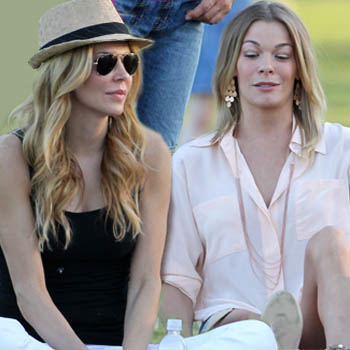 Brandi Glanville's stormy relationship with her ex-husband's new wife LeAnn Rimes is as sour as ever, she has revealed.
The Real Housewives of Beverly Hills star and singer Rimes have been at war ever since Brandi's ex hubby Eddie Cibrian had an affair with, then later married, the country singer - but lately the pair has been trying to get along for the sake of Brandi's two young sons.
Article continues below advertisement
Speaking about the shaky relationship she has with Rimes, Brandi told OKmagazine.com, "Right now it's not amazing. I'm just saying… and I'll leave it at that!"
And as RadarOnline.com previously reported, despite the two women apparently hanging out at soccer games together Brandi also sparked a fresh fight recently with a snarky Tweet…clearly aimed at Rimes' recent stint in treatment.
Early in October Brandi Tweeted this thinly disguised slur: "Call me CRAZY but I don't think 'Twee-hab' worked! Xxxb."
Rimes, 30, recently booked a month in a treatment center for "stress" and "anxiety" issues after claiming she was being relentlessly bullied online.
However Brandi, 39, later defended the Tweet and claimed it was just a joke.
"Well if you put it on paper and you type it out… it's not funny but I'm hoping in person it's funny," she said.
"I'm constantly going back and explaining what I meant or what I said or that I'm just joking."
Article continues below advertisement
Former model Brandi is currently writing a book about relationships and break-ups…based on her divorce from Cibrian 39, whom she has two boys with, Mason, 9, and Jake, 5.
Brandi explained, "It's hopefully an empowering book for women and men about breakups and kind of showing them the way not to go. I did some really messed up things.
"I also don't want people to be embarrassed by the things that they did do."